E-Z-GO Promotes Collins to VP, Integrated Supply Chain
Textron division includes Cushman utility vehicles and E-Z-GO golf cart brands.
---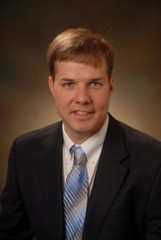 E-Z-GO, a Textron company and a leading global manufacturer of light-transportation vehicles, announces the promotion of veteran executive John Collins to Vice President, Integrated Supply Chain. In his new role, Collins will be responsible for all aspects of E-Z-GO's operations, including the functions of sourcing, manufacturing, logistics, quality control and facilities. He will report to E-Z-GO President Kevin Holleran.
Collins succeeds Ron Draper, who left E-Z-GO to join sister Textron business unit Cessna Aircraft Company as Director, Production Control and Logistics. A native of Augusta, Ga. and a 1995 graduate of Hephzibah High School, Collins has worked at E-Z-GO for more than 12 years in numerous roles. He was program manager for development of the company's RXV golf-car platform, and subsequently served as plant manager. Most recently, Collins was Director, Sourcing and Materials.

Collins holds a bachelor's degree in Technology Management from Clayton College and State University in Morrow, Ga., and a master of science in Quality Control Systems and Management from Southern Polytechnic State University in Marietta, Ga. Collins is a Textron Six Sigma Black Belt. In 2009, he was named one of Augusta's Top 10 Young Professionals to Watch by the Augusta Metro Chamber of Commerce.

"John is a talented strategist, an experienced motivator, and a dynamic and accomplished leader," Holleran said. "Those skills, and his extensive company knowledge and industry experience, will serve E-Z-GO well as it designs and builds new products and enters new markets around the globe."

"I am honored to have this new opportunity at the company where I have worked for my entire career," Collins said. "I am excited to lead E-Z-GO's Integrated Supply Chain organization and these talented, skilled and dedicated employees who make E-Z-GO an exceptional place to work and grow as a leader."
About E-Z-GO
E-Z-GO, a Textron Inc. company, is a leading manufacturer of golf cars, utility and personal transportation vehicles. Products sold under the E-Z-GO brand include RXV and TXT fleet golf cars, Freedom RXV and Freedom TXT personal golf cars, ST personal utility vehicles, Shuttle personnel carriers, MPT turf-maintenance vehicles, and the 2Five street-legal low-speed vehicle. E-Z-GO also produces the Cushman line of heavy-duty material carriers, and the Bad Boy Buggies line of recreational and utility vehicles for hunters and outdoorsmen.

www.ezgo.com