Simpson Strong-Tie Debuts Version 3.3 of DeckTools Software
Software allows users to design photo-realistic, 3D custom decks in real time.
---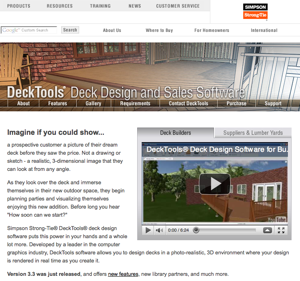 Simpson Strong Tie showcased several products, including the latest release of DeckTools deck sales and design software for lumber dealers, builders and remodelers at the PCBC tradeshow in San Francisco, June 22-24, 2011.
DeckTools software provides users the ability to design custom decks in a photo-realistic, 3D environment where designs are rendered in real time. With this technology, homeowners can quickly see their deck designs as well as instant upgrades, which help close sales faster.
DeckTools owners report up to a 30% increase in closing rates and 40% increase in per-project budgets. The software also has tools to generate estimates, proposals, plans and takeoffs.
The most recent version 3.3 offers several new features, including an enhanced user guide with drawings, a handy tape measure tool and new straight run layout options in the Railing Designer. It also is now easier to upgrade to stainless-steel connectors and to replace nails with load-rated Strong-Drive SD structural-connector screws.
The DeckTools library offers users several brand name decking products to incorporate into their designs. The California Redwood Company, WP Fail-Safe, Feeney Architectural Products and EB-TY hidden deck fasteners are the recent brand additions to version 3.3. For current users, the software upgrade is free. For new users, the software retails for $1895.00.
To learn more about the new release or to schedule a demonstration, visit www.strongtie.com/decktools.