Thomas & Betts Issues 2011 NEC Code Changes Guide
Free 156-page handbook is available in print, as a PDF or an eBook.
---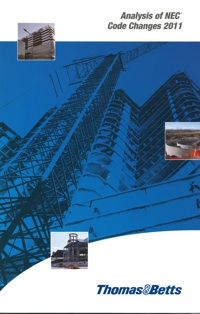 Thomas & Betts has published Analysis of NEC Code Changes 2011, a free reference guide that highlights changes to the National Electrical Code (NEC) for the 2011 code cycle that relate to Thomas & Betts' products. The 156-page handbook is available as a print publication, can be downloaded as a PDF or read as an eBook.
The book guides readers in selecting the appropriate Thomas & Betts products to comply with 2011 changes to NEC. Given the breadth of Thomas & Betts' product offerings in the electrical industry, Analysis of NEC Code Changes 2011 is one of the most extensive code change books available from an electrical manufacturer. The book is organized by NEC article numbers with a table of contents and includes illustrations of products and applications that pertain to code changes.
"The NEC publishes code changes on a three-year cycle, and T&B has provided an overview of the changes that affect our products since 1999," said David Kendall, director, industry affairs for Thomas & Betts. "This edition surpasses all previous versions with more than one hundred code changes translated into laymen terms, and a T&B product highlighted for each change."
Readers may read the Analysis of NEC® Code Changes 2011 on-line, or download a copy, at http://tnbelectricalworld.tnb.com/ps/con/#2471. Readers also may ask their T&B sales representative for a printed copy.
For more information, please visit www.tnb.com.