Weiler Publishes Solutions Resource Guide
Catalog includes Weiler Industrial Grade and Vortec Pro Professional Grade Products.
---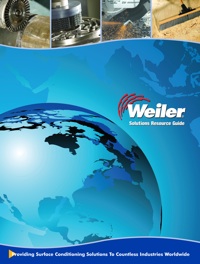 Weiler Corporation, an ISO 9001 certified manufacturer of wire brushes, Nylox nylon abrasive filament brushes, abrasives and maintenance products, has published their updated, comprehensive Solutions Resource Guide - the source for all your surface conditioning solutions! From deburring and grinding to cleaning and finishing, this new guide provides cost-effective solutions to meet all your specific needs.
Designed for ease of use, this catalog is an excellent reference tool, and the color coded sections make it easy to find their four major product lines (Power Brushes, Nylox Abrasive Nylon Filament Brushes, Abrasives and Maintenance Products). A Table of Contents, Item Number Index and Alphabetical Index help to quickly locate products.
The new Solutions Resource Guide includes both Weiler's Industrial Grade Products and their Vortec Pro Professional Grade Products throughout. New products include 4-1/2" Roughneck Jr. stringer bead wheels, Dually weld cleaning brushes, high filament retention (HFR) brushes, an expanded Burr-Rx product offering, an FME solutions program, an Expanded Vortec Pro bonded abrasives line, Pro-Flex sweeps, and an eco-friendly Green Works maintenance product line.
At the beginning of each catalog section there is a Solutions Showcase featuring typical application problems and their solutions plus expanded, more user-friendly technical information. For users' reference, the catalog also features product selection guides, technical tips and hundreds of application photos. There are even "Did You Know?" fun facts about Weiler and their products highlighted throughout.
Weiler's logo may be red, white and blue, but they are committed to going GREEN! Weiler recognizes the importance of protecting the environment through the use of recyclable materials, elimination of waste and efficient use of our resources. The Solutions Resource Guide explains a variety of initiatives Weiler has undertaken as part of their commitment to a sustainable future including heat reclamation, reduced energy use, recycling, environmental protection and water conservation. The Guide is even printed on recycled paper!
The Solutions Resource Guide (WC670) is available online in .pdf format at www.weilercorp.com. Or, to obtain a hard copy, please contact: Weiler Corporation, One Weiler Drive, Cresco, Pennsylvania 18326-0149; Toll free (800) 835-9999 or e-mail your request to: info@weilercorp.com.