DELTA Ships First 300 Unisaws
New company reaffirms commitment to manufacture products in the USA.
---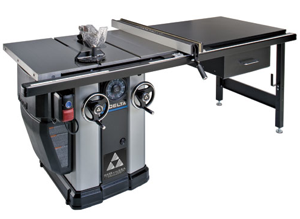 DELTA Power Equipment Corporation, a designer and manufacturer of portable, stationary and benchtop woodworking machinery and equipment, announced today that they have manufactured and shipped 300 Made in USA UNISAW Cabinet Saws from their new Anderson, South Carolina facility.
"I hope this news will put to rest anyone thinking we were moving overseas," said Bryan Whiffen, President and CEO of DELTA Power Equipment Corporation. "We believe strongly in the DELTA Made in the USA tradition and are working hard to continue that tradition."
Production runs of BIESEMEYER professional woodworking accessories, DELTA radial arm saws and DELTA line boring machines have also been completed and are shipping to dealers from the Anderson facility.
"I'm very proud of everyone at our new Anderson facility" said Norm MacDonald, Executive Vice President and COO. "We have a great nucleus of talented and focused professionals that really have come together to accomplish the impossible. To get all processes up and running, including the complete manufacturing facility, in just three months' time was an intense undertaking and our team was up to the challenge and very successful."
The complete line of DELTA professional and DIY woodworking equipment and machinery as well as BIESEMEYER professional woodworking accessories will continue to be offered through woodworking distributors and retailers.
DELTA and BIESEMEYER customers can continue to obtain parts and service by calling 1-800-223-7278 or going to www.DeltaMachinery.com or www.Biesemeyer.com.