DMT Celebrates 35 Years
Issues Anniversary diamond sharpening set.
---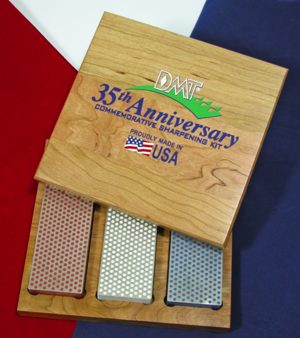 For 35 years, DMT Diamond Machining Technology has been the worldwide leader in diamond sharpening and has proudly manufactured all of its products right here in the good old USA. The company will celebrate its official 35th anniversary on August 31, 2011. To commemorate this historic milestone, DMT is producing a tri-color (Red, White and Blue) limited edition set of Diamond Whetstones that will be available only
from August to October 2011.
The 35th Anniversary Diamond Whetstone Set comes in a beautiful hardwood box with rubber feet and includes three 6" Diamond Whetstones color-coded according to grit: Red – Fine grit (25 micron / 600 mesh), White – Medium grit (35 micron / 450 mesh), Blue – Coarse grit (45 micron / 325 mesh). This marks the first and only time that DMT had created a Medium grit stone, making the set truly one-of-a-kind.
A popular sharpening choice, DMT's 6" Diamond Whetstones feature an interrupted diamond surface in the company's signature polka-dot pattern. The surface is layered in precisely micronized monocrystalline diamond embedded in nickel, a DMT proprietary process. The polka dots allow metal fines to fall into recesses, keeping the sharpening surface performing at its best.
DMT's Diamond Whetstones offer a wide sharpening surface to accommodate the variety of edges found on all kinds of knives and tools. Applications span the culinary, gardening, woodworking, and outdoor recreation markets, satisfying just about every sharpening need at home, in the shop or in the field. What's more, sharpening with DMT Diamond Whetstones is quick, easy and safe. And, unlike conventional stones, there are no messy oils to struggle with. A few light strokes with the manual sharpener are all that's needed.
Like all DMT products, the 35th Anniversary Diamond Whetstone Set is built to last with the highest quality materials and workmanship. For purchasing information, please call DMT Customer Service at 800-666-4368.
Again, this is a limited edition product available only from August through October 2011.