Emerson EGS Electrical Group Unveils New Website
Consolidates individual brands into one, easy-to-navigate site.
---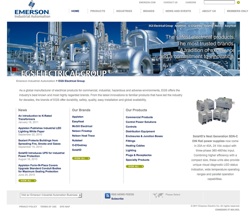 EGS Electrical Group, a business unit of Emerson Industrial Automation, is strengthening its unified vision by launching a new
website
that consolidates its many brands into one convenient site with a single voice and a fresh, modern design.
The new website signals the recognition of EGS as a global manufacturer of end-to-end electrical solutions through a well-integrated product suite. All brands in EGS, including Appleton, EasyHeat, McGill Electrical, Nelson Firestop, Nelson Heat Trace, Nutsteel, O-Z/Gedney and SolaHD, can be accessed at the site.
Easy to navigate and dramatically simplified, the new website offers customers better organized and far more detailed information about EGS products, ranging from the latest innovations in power protection to familiar roughing-in electrical products that have led the industry for decades. With easy access to press releases and a calendar of events, visitors will always be connected to the most up-to-date EGS information available.
Members Only, a popular service that allows registered EGS distributors and partners to download a variety of materials including prices lists and launch kits, is accessible through the new site.
http://www.emersonindustrial.com/en-US/egselectricalgroup/Pages/home.aspx