SureSet to Launch New Paving Line in USA
Company seeks partners in U.S.
---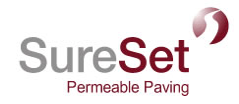 SureSet, an acknowledged leader in resin bound paving, is set to bring its established systems and technology to the U.S. market.
Proven in applications across Europe and Australasia, resin bound paving offers a wide range of aesthetic, performance and operational benefits to architects, designers, landscape contractors and home owners.
Highly versatile and suitable for a wide range of residential, commercial and public applications, SureSet paving delivers beautiful and long lasting surfaces, bringing life to projects of any size - including driveways, patios, pool surrounds, roof gardens, play areas, car parks, tree pits and public spaces.
Resin bound paving offers great flexibility to designers, allowing intricate patterns and complex shapes to be easily created. The complete SureSet range includes a wide variety of colour and texture options. With natural gravel and crushed stone, marble and recycled glass, shells, bricks and plastic, the range provides almost limitless options - from natural buffs and shades of terracotta to rich, vibrant primary colours.
SureSet is equally suitable for both new build and refurbishment projects, providing a fully permeable surface which allows water to freely drain through - the rate of permeability depending on the size of aggregate and type of sub-base specified. The high quality finished surface requires virtually no maintenance and is highly durable, UV stable, and resistant to frost, oil and stains - ensuring that its appearance won't fade or be compromised over time. For complete peace of mind, every project is supplied with a comprehensive 15 year guarantee.
The low energy material is mixed cold on site and hand floated by skilled installers to deliver a smooth finish, ideal for areas where wheelchairs and pushchairs may be used.
In the U.S., the company is now looking to appoint and work alongside selected agents who will promote resin bound paving to landscape architects, work with clients and contractors throughout the project and provide a full installation service. To enquire about becoming an approved SureSet Agent, or for more information about the SureSet range of products, please call the company's customer service team on +44(0)1985 841 180 or visit www.sureset.co.uk.