Pferd Named One of Top 100 Companies in Germany
Prestigious awards recognize most innovative small and medium size companies.
---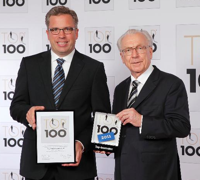 The prestigious Top 100 award designations for small and medium size companies were recently announced in Germany and August Rüggeberg GmbH & Co., which manufactures grinding, finishing, cutting and maintenance tools under the PFERD brand name, was honored as one of the proud recipients for 2011.
Organized by compomedia GmbH and scrutinized by the Vienna University of Economics and Business Administration, only the most creative small and medium size German firms that display a vision and a feeling for new ideas are selected. These innovative companies with superior entrepreneurship, innovations management and marketing receive this Top 100 ranking from the 272 companies originally examined. PFERD USA, a subsidiary of August Rüggeberg GmbH & Co., is headquartered in Leominster, MA.
PFERD managing director, Jim Rüggeberg, commented on his company receiving the honor. "Creative ideas and fresh thinking are more than a means of increasing revenue for us", he said. "We are passionate about our business, and we want to make a difference. We are proud to have been awarded this prize and it proves that working as a team pays off", he concluded.
PFERD places a strong focus on regularly presenting new ideas to the market as their key to a successful innovation history. Recently, the company's product management was organized based on product market sector. The philosophy behind that move was that product managers knew best about their products, so, consequently, they also should have the responsibility for upstream and downstream processes since they always have a distinct customer benefit in mind with each innovation.
The award organizer, compomedia GmbH, directs benchmarking projects involving small and medium size German firms set in a nationwide competition in the fields of innovation, human resources management, consulting and values management. They are partnered in the projects by the German Association for Small and Medium-Sized businesses, the Fraunhofer Society for the Promotion of Applied Research, the German Centre for Productivity and Innovation, SchmidtColleg GmbH & Co, KG, VDE-the Association of electrical, electronic & Information Technologies and Wiessman & cie consulting firm. Its media partner is the Suddeutsche Zeitung newspaper and the project coordinator is Dr. Nikolaus Franke, professor of entrepreneurship and innovation at the Vienna University of Economics and Business Administration.
The award was presented to PFERD managing director, Jörn Bielenberg, by Lothar Späth, mentor of the award selection process in NorthRhine-Wesphalia, Germany.