IDEAL Mourns Passing of Former Vice President of Sales Bob Bukowsky at Age 71
Retired from Ideal in 2008; received Honorary Life Membership in NAED.
---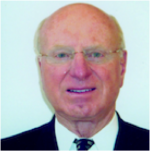 IDEAL is deeply saddened to announce the passing of its former Vice President of Sales, Robert "Bob" Bukowsky at age 71.
A world-class salesman, Bob began his career with IDEAL as National Sales Manager. In 1993, he became Vice President of Sales, where he successfully managed the IDEAL sales team and built a network of distributors across the United States. During his tenure with IDEAL, Bob achieved many milestones, including the development of several distributor development programs, development of IDEAL's territory growth program, and most notably the successful transition of the company's position in the market from primarily selling wire connectors and hand tools into a thriving and innovative supplier of a diverse range of installation and testing solutions across several markets.
Bob was a strong supporter of NAED and was often seen with his wife Franca at NAED meetings "selling" IDEAL and working with others to strengthen the association and support the industry. He became a member of the Manufacturer's council in 2003, was Chair in 2008 and in 2011 received Honorary Life Membership. The National Association of Electrical Distributors (NAED) also recognized Bob with its Associate Award for outstanding contributions of an individual to the industry in 2007. Bob served on the NEMRA (NMG) Manufacturers Group Executive Committee from 2000-2004, including the role of Chairman in 2003-2004. In 2005, at their 35th Annual Conference in New York, he was honored with the Thomas F. Preston Award for his steadfast support of NEMRA and its independent manufacturer representatives. Bob retired from IDEAL in May 2008.
Bob was active in many charitable organizations. Most recently, he served as a board member of the Kishwaukee Family YMCA and was a fundraiser for the Strong Kids Campaign.
"The IDEAL family sends its deepest condolences to all who knew and loved Bob, to those who worked with him and to everyone who enjoyed his outgoing, friendly personality," said Dave Juday, Chairman of the Board for IDEAL. "We extend our deepest sympathies to his family and friends during this difficult time."
Bob is survived by his wife, Franca; son, Michael (Rebecca); grandchildren, Caden and Carter; sister, Elizabeth; brother, Michael; Franca's daughter, Jessica Davis; Brett and Mike's mother, Sandra Bukowsky; and many other family and friends.
To sign the online guest book, visit www.ButalaFuneralHomes.com.