LiftPod FS60 Named 2011 Product of the Year
Magazine gives FS60 portable lift top safety award.
---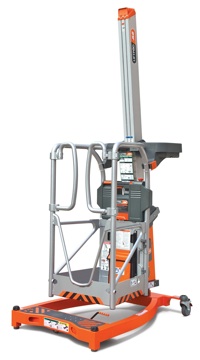 JLG Industries, Inc., today announced that Plant Engineering magazine has named the LiftPod FS60 a 2011 Product of the Year (gold award) in the safety category.
There were more than 100 finalists in 14 categories for the 24th Annual Product of the Year awards. Gold, silver and bronze award winners for each category were chosen by engineers who are Plant Engineering's print and digital subscribers. Management personnel—those who decide which equipment to purchase for their plants selected the overall Product of the Year.
The LiftPod FS60 personal portable lift weighs just 130 lbs. Each of its three components weighs about 50 lbs. and can be assembled in less than 30 seconds. It is ANSI A92.3-2006/CSA B354.1-04 compliant and combines lightweight portability with a secure work platform. It does not require an OSHA-regulated two-man operation because one worker can complete tasks with a 360-degree range of motion in a completely closed-in platform.
For more information about the LiftPod FS60, please visit http://www.liftpod.com/en-US/FS60.html. For more information about JLG, visit the website at http://www.jlg.com