Dorner Launches New Web Site
Web site adds functionality in selecting industrial/sanitary belt conveyors.
---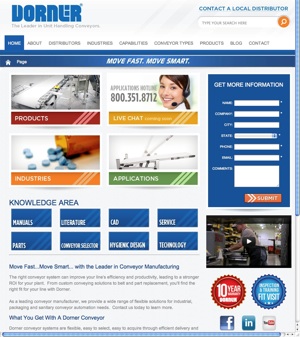 Dorner Manufacturing has taken its website to the next level – a state-of-the-art interactive platform that enhances functionality, as well as the overall customer experience.
The website's homepage at www.dornerconveyors.com greets visitors with its most popular search tabs: products, industries, applications and hotline help, for quick and easy navigation. The live chat tab, which will be launched later this year, will allow customers to ask questions and receive answers immediately through online interaction with Dorner application support staff.
The homepage also prominently features a knowledge area where users can access and download all service manuals, literature, as well as look up parts information, use the conveyor selector or 3D CAD tool. With the widest breadth of unit handling conveyors, the conveyor selector assists users in narrowing their product search allowing for less time to find the right product for an application.
Users can also visit Dorner's blog to read and post comments about the latest news, applications and trends affecting the material handling and other industries.
Other features and functionality of Dorner's new website include:
More visual layout of product content allowing for navigation and product review with fewer clicks
Large color photos of all conveyor platforms with callouts listing key product differentiators
Applications hotline number for free technical advice listed prominently on the homepage
Comprehensive 3D and 2D CAD library available for free download on the homepage
Robust search function to quickly locate specific conveyor platforms and accessories
To experience the new website, visit: www.dornerconveyors.com

Hartland, Wisconsin-based Dorner Manufacturing is a world leader in the design, manufacture and distribution of high-quality conveyors and related equipment. Since 1973, companies from around the world have turned to Dorner conveyors for greatly improved efficiency and productivity. For more information about products or company news, visit Dorner's Web site at www.dornerconveyors.com or call 1-800-397-8664.