General Tools Cordless Precision Engraver Takes Award at NHS
Wins 2012 Retailers' Choice Award.
---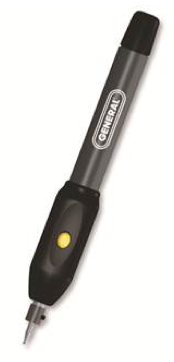 General Tools & Instruments continues to be recognized for its product innovation, this time winning a 2012 Retailers' Choice Award for the Cordless Precision Engraver (model 505).
Unlike most other award programs, the products receiving this honor aren't selected by editors; they are handpicked by a panel of distinguished retailers who buy and sell products for a living, making the award extremely meaningful.
At the 2012 National Hardware Show in Las Vegas, a volunteer panel of retailers served as judges, scouring the show floor in search of the latest and greatest products on display by more than 2,500 exhibitors. From thousands of new products, General's Cordless Precision was one of just 26 products to be selected for an award, indicating its originality, ingenuity and sales potential.
The Cordless Precision Engraver is designed for superior durability and ease-of-use. It enables users to protect valuables with identifying markings, perform delicate item personalization and sign craftwork. Its improved gearing boosts torque to facilitate smoother, more consistent scribing, allowing for engraving anywhere by anyone. The precision specialty tool includes a 3/32 in. diamond-tipped engraving bit, and its 20,000 RPM motor is powerful enough to engrave glass, metal, ceramic, plastic and wood.
To learn more about General Tools & Instruments and its products, visit www.generaltools.com or call Customer Support at 1-800-697-8665.