Makita and Metal Mulisha's Brian Deegan Extend Partnership
Rallycross and new seasonal promotion are latest actions in growing partnership.
---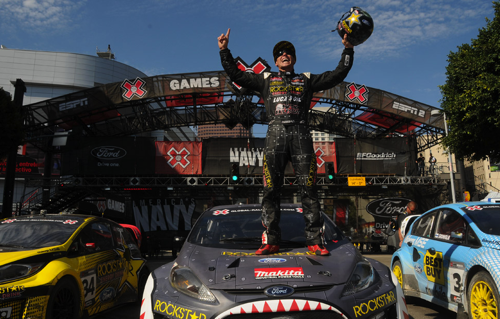 Brian Deegan, Metal Mulisha founder, thirteen-time X-Games medalist and full-time action sports icon, continues to extend his partnership with Makita Industrial Power Tools.
Makita, with its ongoing presence in racing and action sports both as a sponsor and as the power tool of choice in the pits, announced last week a new partnership with Deegan for the 2012 Global Rallycross Series. This week, Makita launched a new promotion backed by Deegan that targets tool users with a compelling seasonal offer.
Makita is already the Official Power Tool for Brian Deegan as he pursues his fierce passion to win in motor sports racing including off road, freestyle motocross, and rally car.
"Our ongoing commitment to racing and the fans who love the sport is a natural for Makita," said Brent Withey, Director of Marketing, Makita. "Whether it's off road, freestyle motocross or supercross, all you have to do is look in the parking lot – it's all about lifted trucks with tool boxes in the back. That's our customer, the one with a tool in his hand all week and a hand on the throttle all weekend. For our growing legion of customers who follow action sports, Brian Deegan is an icon and a perfect complement to Makita's best-in-class power tools."
New Promotion Features Deegan
Deegan is backing Makita's latest promotion, which offers an opportunity for contractors to expand their tool boxes. Makita is offering a free 18V LXT Lithium-Ion "bare tool" with qualifying purchase of select 18V LXT Lithium-Ion Kits.
Learn more at www.makita.com