Generac CEO Aaron Jagdfeld Named Entrepreneur Of The Year 2012 Award Winner
Ernst & Young picks Jagdfeld for manufacturing award for the Upper Midwest.
---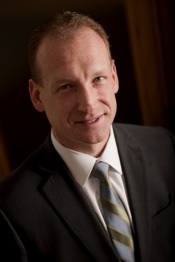 Ernst & Young LLP announced that Aaron Jagdfeld, CEO of Generac Power Systems, a leading designer and manufacturer of generators and other engine powered products, received the Ernst & Young Entrepreneur Of The Year 2012 Award in the manufacturing category in the Upper Midwest.
The award recognizes outstanding entrepreneurs who demonstrate excellence and extraordinary success in such areas as innovation, financial performance and personal commitment to their businesses and communities. Jagdfeld was selected by an independent panel of judges, and the award was presented at a special gala on June 14, 2012 at the Marriott City Center in Minneapolis, Minnesota.
"It's an honor to have been selected for this award," Jagdfeld said. "The manufacturing sector is experiencing a strong rebound in the United States. I'm proud to be a part of a company whose entrepreneurial spirit is helping lead growth in this important part of the economy."
Now in its 26th year, the Ernst & Young Entrepreneur Of The Year Program has honored the inspirational leadership of such entrepreneurs as Jeff Bezos of Amazon.com, Michael Dell of Dell Inc., Herb Kelleher of Southwest Airlines, Fred Smith of FedEx, Larry Page and Sergey Brin of Google, Richard Schulze of Best Buy, Andrew Mason of Groupon, Mindy Grossman of HSN, Inc., Reid Hoffman and Jeff Weiner of LinkedIn, and many more.
As an Upper Midwest award winner, Jagdfeld is now eligible for consideration for the National Entrepreneur Of The Year 2012 Award. Award winners in several national categories, as well as the National Entrepreneur Of The Year Overall Award winner, will be announced at the annual awards gala in Palm Springs, California, on November 17, 2012.
Since 1959, Generac has been a leading designer and manufacturer of a wide range of generators and engine powered products. As a leader in power equipment serving residential, light commercial, industrial and construction markets, Generac's power products are available through a broad network of independent dealers, retailers, wholesalers and equipment rental companies. The company markets and distributes its products primarily under its Generac and Magnum brand names. For more information on Generac and its product line, visit www.generac.com.