White Cap Introduces 2012-13 Full-Line Catalog
Catalog features more than 16,000 products in over 700 pages.
---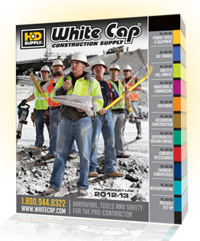 HD Supply White Cap Construction Supply has released its 2012-13 full-line catalog, featuring thousands of new products and an enhanced index for greater ease-of-use. The new catalog provides professional contractors with quick and easy access to the hardware, tools, materials, pricing and information they need to get the job done right.
"The White Cap catalog is a great tool on the jobsite," said HD Supply White Cap Construction Supply President John Stegeman. "From the sheer number and variety of products we offer, to the expert tips and tricks of the trade our associates share within these pages—the catalog provides solutions to our customers' everyday challenges, big or small. We're thrilled to create customer value with this new catalog."
The most comprehensive edition yet, the 2012-13 catalog includes more than 700 color pages offering more than 16,000 professional quality tools and supplies. With an extensive new index and distinct, color-coded sections, it's also easier to use than ever—allowing customers to quickly find exactly what they need.
Additionally, the catalog features helpful tips from knowledgeable White Cap associates.
White Cap's full line catalog is free upon request. White Cap customers can send in the business reply card found in their monthly specials mailer, The Contractor Trader.
You can also request a free catalog by calling 1-800-White Cap (944-8322), online www.whitecap.com or in any of the 137 White Cap branches across the nation.
HD Supply White Cap Construction Supply is the nation's leading distributor of specialty hardware, tools and safety materials for professional contractors. The company offers an extensive product inventory, combined with will-call, site delivery and direct-ship options. It is a line of business within the HD Supply (www.hdsupply.com) portfolio of companies. HD Supply is one of the largest diversified industrial distributors in North America.