Igloo Signs Cooler Decor Deal
Partnership with Visual Promotions will make it easier for distributors to access Igloo premium products.
---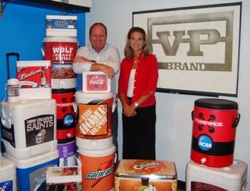 Igloo Product Corp. and Visual Promotions are pleased to announce the signing of a new exclusive decoration contract. The two companies, which are only separated by 18 miles of interstate 10, have been doing business since 2009 and expect this new deal to make it easier for distributors to access Igloo premium products.
"We are so pleased to be teaming up with Visual Promotions and to expand our current premium product offerings," Dan Streich, Director of Field Sales at Igloo said, "The crew at Visual Promotions know our products and the industry very well".
Visual Promotions, owned by Jeff and Jennifer Brandes, has been in business since 1998 providing screen-printing goods and other promotional products. A one off project to vinyl wrap an Igloo cooler in 2009, however, catapulted Visual Promotions to become the number one supplier of Igloo coolers to the promotional product industry. "From the first wrapped 10 gallon Igloo cooler, we felt we had something special. We have evolved our decoration capabilities into more exciting products and processes. Distributors are having great success selling our new decorated coolers such as the DuoDeco Series and our full color heat transfers," said Jeff Brandes, President at Visual Promotions.
This contract establishes Visual Promotions as the exclusive decorator of Igloo hard sides and soft cooler bags for the premium industry. The two companies believe that the expertise each has in their respective fields will make Igloo products a dominant force in the promotional product industry. Streich had this to say about the partnership, "When we sat down and examined this, it became obvious. We know how to make coolers. Visual does an excellent job of imprinting on our coolers. So let's both just focus on what we do the best."
Igloo has also added a new page to their website dedicated to cooler customization.

"The new live online customization tool on IglooCoolers.com gives customers the ability to personalize their favorite products right there on the website and also directs customers on to Visual Promotions' full catalog of Igloo products," Streich explains.
"We have streamlined our production process to increase turn times and expanded our customer service department to answer Igloo calls quickly and efficiently. Our staff is trained and well versed on all Igloo decoration methods and products. Our close proximity to Igloo allows our staff to visit Igloo frequently to increase our product education and communication with the factory. We understand the importance of timely order processing and final delivery ensuring you get the product you want with one line of communication and one PO process," said Brandes.
Visual Promotions will display all customized Igloo product options at primary industry shows (ASI, PPAI, SAGE) as well as through their extensive rep network covering the United States. For more information or to schedule a line review please contact Visual Promotions at: 1-800-823-0905 or visit www.vpbrand.com.
For further information about Igloo premium products or about any other Igloo product, visit the company's Web site at www.igloocoolers.com.