Laitner Issues 2013 Catalog
Cleaning tool manufacturer launches new corporate look.
---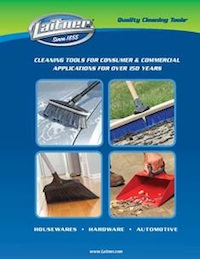 Laitner, a Cequent Consumer Products brand of award-winning "quality cleaning tools" is excited to announce a new product catalog for 2013 revealing Laitner's bold new look.
The new Laitner catalog includes a new logo and branding. The catalog also features new photography of the products and a reorganization of product categories including: Push Brooms, Handles, Upright Brooms, Mops, Housewares, Dust Pans, Squeegees, Utility Brushes, Car Washing Tools and Soft Goods.
The back of the catalog cover features the #29 Brad Keselowski Racing Laitner RAM that ran in the NASCAR Camping World Truck Series in July 2012 at Chicagoland Speedway. Cequent Consumer Products has a three year partnership with BKR racing and used this race to debut the new logo for Laitner on the hood and rear panel of the #29 truck.
The catalog was printed and is available online as a download on CequentConsumerProducts.com. The catalog is primarily used for retail ordering as Cequent does not sell its products direct.
A new Facebook page for Laitner was also launched as a part of the new branding initiative as well as new product packaging that makes it easy for consumers to shop. A new web and mobile site is currently being developed for Laitner.
Laitner has been making cleaning products since 1885 and became part of Cequent Consumer Products family of brands in February 2012 when Cequent acquired the business to expand its product offerings to its retailers.
Visit www.Laitner.com