JCB Appoints Arjun Mirdha COO
Moves from Executive Vice President of Sales/Marketing and Service.
---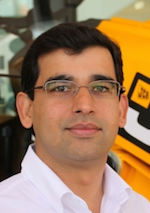 JCB is pleased to announce that effective January 1, 2013, Arjun Mirdha will be appointed the Chief Operating Officer of JCB, Inc. overseeing Sales, Commercial Operations, Parts and Service, Manufacturing, Marketing Communications and Product Marketing.
Mirdha joined JCB in 1996 and through his 17 years with the company has gained substantial experience in various roles that include dealer development, parts, service, sales, marketing and new product development. He has also held various management positions in the UK, India and North America.
Serving in his current role as Executive Vice President of Sales / Marketing and Service, Arjun has overseen a 62% increase in overall sales and a 48% increase in parts and service revenue. In addition, the JCB dealer network has expanded national coverage by 25%.
For more information about JCB visit www.jcbna.com.