Yale Now Offering Canadian Quick Ship Program
Global King Electric Wire Rope Hoist gets 24 hour quick ship program.
---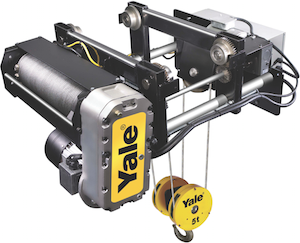 Columbus McKinnon Corporation (NASDAQ: CMCO), a leading designer, manufacturer and marketer of material handling products, has made its popular Yale Global King electric wire rope hoist available in Canada as a Quick Ship Program.
The Canadian 24 Hour Quick Ship Program offers select Global King units as a standard monorail unit or as a complete plug & play crane kit. These units have been configured
for broad appeal, while living up to our own standards of dependability and durability.
Both the monorail hoist and plug & play crane kit Canadian 24 Hour offerings come in 3-,
5-, 7-1/2 and 10-ton units.
For more product details and specification information, please visit www.cmworks.com/globalkingwireropehoistsavailablewithquickship.
An upgraded 3-year warranty is offered as a standard on the Global King hoists. This
warranty change is a reflection of the hoist exceeding expectations and providing one of
the lowest costs of ownership over its 10-years in the market.
All Global King models continue to be available through the Columbus McKinnon network of crane builders and distributors. For a list of distributors, please contact customer service at 1-800-888-0985 or go to www.cmworks.com.