Home Prices Climb 7.3 Percent in January
S&P/Case-Shiller Home Price Index tracks home value recovery in top 20 markets.
---
Data through January 2013, released today by S&P Dow Jones Indices for its S&P/Case-Shiller1 Home Price Indices, the leading measure of U.S. home prices, showed average home prices increased 7.3% for the 10-City Composite and 8.1% for the 20-City Composite in the 12 months ending in January 2013.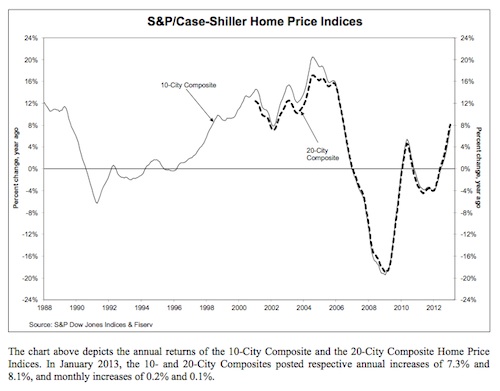 All 20 cities posted year-over-year gains with Phoenix leading the way with a gain of 23.2%. Nineteen of the twenty cities showed acceleration in their year-over-year returns.
Despite posting a positive double-digit annual return, Detroit was the only city to show a deceleration.
After 28 months of negative annual returns, New York came into positive territory in January.
Click here to read the entire story.
Source: standardandpoors.com