Bon Tool Issues 2013 Catalog
Updated catalog contains nearly 6,000 products.
---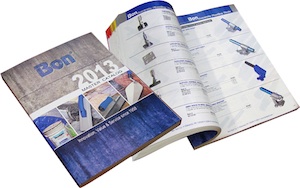 Bon's line of contractor-grade hand tools and materials for the building trades has been expanded to nearly 6,000 products and includes over 200 new items introduced in January 2013. The full product line is featured in Bon's 2013 Master Catalog.
The newly published catalog is Bon's largest yet, representing one comprehensive resource of hand tools for the building trades. Bon is an industry leading manufacturer and distributor of construction tools for professionals. The large selection of tools available at Bon include tools for masonry, concrete and decorative concrete finishing, concrete restoration, drywall, interior construction, floor covering, asphalt, roofing general construction and more. The complete catalog of products can be viewed on line at bontool.com.
New products of interest span the trades including ball jointers available with or without a handle for masonry; V-Shaped Push or Pull Squeegees for asphalt; Lexan Trowels for plaster work and Bon's new Blue Fox brush with styrene fibers for concrete finishing.