Devoe Paint Launches New Website
Site serves distributors and paint contractors.
---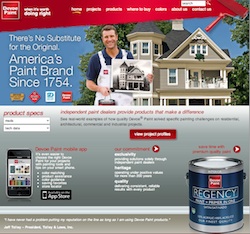 Devoe Paint has launched a new website with intuitive navigation, inspiring graphics, easy-to-access product information and useful contractor and dealer resources.
Designed to support paint contractors and independent paint retailers, 1754paint.com directs users to a store locator, full product information and a color page with coordinated palettes, collections, trends and a visual painter.
Founded in 1754, Devoe Paint is recognized as America's oldest paint brand. In an effort to recognize and leverage the heritage of the brand and support the long-standing commitment Devoe Paint has made to the independent dealer, the year of Devoe Paint's founding was chosen to represent the brand in the new website address.
"The website captures the essence of Devoe Paint, which is to provide exclusive solutions through independent paint dealers and deliver quality, consistent, reliable results with every product," said John Trenta, brand and channel manager – dealer marketing at PPG Architectural Coatings, makers of Devoe Paint. "It's inspirational, not just informational."
Homepage graphics accentuate the heritage of the Devoe Paint brand and pay tribute to dealers and contractors. MSDS and Data Sheets are available from the homepage, as well as a link to Project Profiles, real-world examples of how Devoe Paint helped solve specific painting challenges on high-profile projects.
Brand news can easily be accessed on the homepage, where a Design by Devoe app is featured.
"Devoe Paint recognizes that experience shapes the outcome of each project, and the website helps empower pros to make remarkable impressions," Trenta said.
Devoe Paint, a registered trademark of AkzoNobel, is sold by PPG Architectural Coatings, part of PPG Industries, the world's largest paint and coatings company. learn more at www.1754paint.com.