DMT Unveils New Packaging
New packaging is smaller, lighter and uses 93 percent less plastic.
---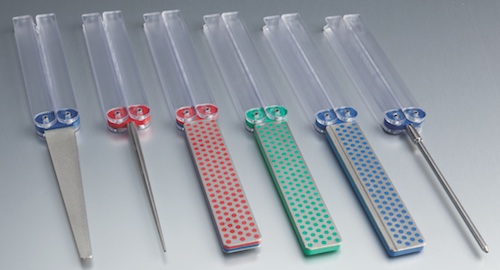 DMT Diamond Machining Technology is a small manufacturer with a large global footprint. But, as Mark and Stacey Brandon—the husband and wife owners of this 36-year-old Massachusetts company—considered how to improve their most popular product line, reducing the company's carbon footprint became a key factor.
This month, DMT is unveiling eco-friendly packaging for its Diafold line of knife and tool sharpeners. The new Diafold packaging is smaller, lighter and uses 93 percent less plastic.
DMT is locally owned and manufactures 100 percent of its products in the USA. As a result, it controls its processes and packaging. Since the late 1990s DMT has operated its plant with a closed-loop manufacturing process, eliminating all wastewater discharge and protecting the groundwater. With this latest step to eliminate most plastic from its packaging, DMT is proving that small companies can afford to take big steps to protect the environment.
As part of its overhaul of the Diafold line, DMT eliminated dyes from the handles of the product, opting instead for a clear resin. That clarity helped DMT display the Diafold in its folded position and offered two advantages: 1) consumers could more easily identify the grit of the sharpener; and 2) the packaging could be smaller.
"We're excited to introduce the next generation of the Diafold product family," says DMT President Mark Brandon. "Our commitment to sustainability matches our commitment to performance and utility. Having determined how to incorporate eco-friendly packaging to the Diafold line, we can now focus on reducing how much plastic we use in packaging our other products."
Chefs, home cooks, woodworkers, gardeners, DIYers and outdoor enthusiasts have long known that DMT products are made to last. Now, with new packaging, the products are even more sustainable.
Visit www.dmtsharp.com for more information.