Simpson Strong-Tie Wins Product Innovation Award
Strong Frame Special Moment Frame for earthquake protection takes honor.
---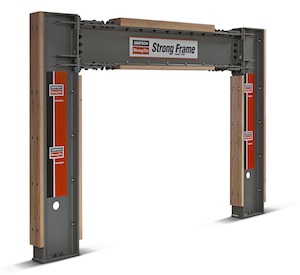 Simpson Strong-Tie has received an Architectural Products magazine Product Innovation Award for its Strong Frame special moment frame. This cutting-edge lateral system solution is designed to help prevent structural damage in earthquakes.
The awards honor innovation in building product design and span all products throughout the market sector.
The Strong Frame special moment frame features new patented Yield-Link structural fuse technology. During a seismic event, the beam-to-column links are engineered to bear the brunt of lateral forces, keeping the structural integrity of the beams and columns intact.
With bolt-on/bolt off ability, the links are fully replaceable if damaged. This makes replacement easier and faster because the beam and columns can remain in the structure during repairs.
"We are truly honored to receive this innovation award. This recognition validates our belief that the Strong Frame special moment frame is a cost-effective and time- and labor-savings solution for new construction and weak-story building retrofits," said Tim Ellis, Strong Frame product manager for Simpson Strong-Tie.
Learn more at www.strongtie.com.