Department of Defense Honors SC Fastening Systems
DOD lauds company's support for employees serving in the Ohio Guard and Reserve.
---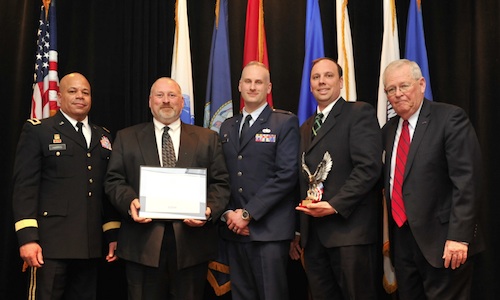 Ohio Employer Support of the Guard and Reserve (ESGR), a Department of Defense office, announced today that SC Fastening Systems was honored with an Above and Beyond Award in recognition of extraordinary support of its employees who serve in the Ohio Guard and Reserve.
According to Steve Koper, Ohio ESGR State Chair, "The ESGR Above and Beyond Award was created by ESGR to publicly recognize American employers providing extraordinary patriotic support and cooperation to their employees, who like the citizen warriors before them, have answered their nation's call to serve. Supportive employers are critical to maintaining the strength and readiness of the nation's Guard and Reserve units."
SC Fastening Systems joins with thousands of American employers who have reviewed and amended their current human resources policies to ensure compliance with the Uniformed Services Employment and Reemployment Rights Act. Many employers provide above and beyond support with pay differential to offset the loss of wages, and extension of health care benefits which complement coverage provided by the military when their employees are mobilized.
SC Fastening Systems is a customer focused industrial distributor and sourcing specialist in Macedonia, Ohio. Primary product lines include fasteners, concrete anchors, cutting tools, abrasives, hydraulics/pneumatics, welding supplies, janitorial & safety supplies, specialized packaging as well as specialty fasteners and hardware.
Learn more at www.scfastening.com