FMI Nonresidential Construction Index Advances 0.9 percent in Q2
Index continues recovery trend, inching from 64.9 to 65.8.
---
FMI released its 2014 Second Quarter Nonresidential Construction Index (NRCI) report showing a slight improvement of a 0.9 point increase from Q1 and a 5.7 point increase from Q2 2013. The pace of growth is slowing, the reports says, indicating that the economy still holds a lingering recession mentality.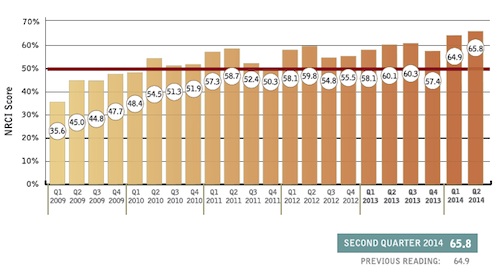 The largest repercussion of this mindset is that it keeps companies from investing, banks from lending and consumers from spending. Pressure to keep prices low while increasing profitability reflect the need to improve productivity and to use qualified construction workers. A 1.7 point decline in the productivity component of the NRCI is indicative of these challenges.
When panelists, who are top executives and owners of construction firms, were asked where the industry most needs to focus future innovation, one industry leader responded, "On anything that makes construction more productive. More productivity means less labor is needed on-site during a time of real labor shortages."
FMI provides management consulting and investment banking services to the engineering and construction industry. Register to download the free report here.