DDI System Releases Newest Inform Software Upgrade
Adds user-defined screens, more functions and a fresh new look.
---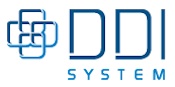 DDI System continues its commitment towards innovation and industry-specific tools with its latest release - Inform Version 21.0.10.32.
This new version provides an even greater feature set - fully integrated as part of DDI's inform solution. DDI System expands its offerings and adds user defined screens with updated new looks, making inform one of the most advanced and user-friendly ERP solutions available today.
Additional print screen and email notification options provide greater flexibility in providing information to all applicable employees.
Enhanced warranty returns handling allows distributors to define vendor requirements for warranty returns complete with pop up notification and more.
Improved back-order release handling tools and so much more have been added with this latest release.
Thousands of DDI System users nationwide are achieving a higher level of efficiency and increased profitability with inform's advanced capabilities. DDI continues its tradition of innovation and exceptional values with this free upgrade for DDI System inform subscribers.
Distributors can see the many benefits of the inform software at www.ddisys.com or by calling DDI for a demonstration at 877-599-4334.