Dow Kicks Off Great Stuff NASCAR Sweepstakes
Winner will join the Great Stuff pit crew for a day.
---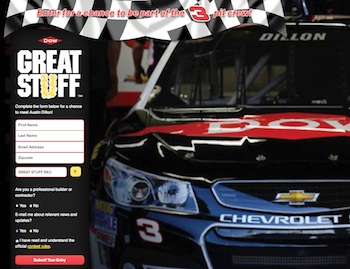 Dow GREAT STUFF is closing the Gap with the No. 3 Richard Childress Racing (RCR) Driver, Austin Dillon. Today, Dow unveiled the paint scheme that will run under the lights at this year's Bristol race.
This paint scheme supports the Dow GREAT STUFF "Gaps and Tracks" Sweepstakes that launched June 1, 2014 and will run through July 31, 2014.
The sweepstakes offers numerous ways to "close the gap" and be in victory lane. The grand prize recipient will win a trip to Bristol, Tenn. on August 23 to meet Austin Dillon, and be an honorary pit crew member during the race.
To enter, fans must purchase a can of GREAT STUFF online or at a local home improvement store and enter the product code at www.greatstuffsweepstakes.com.
One winner will be randomly chosen and announced in early August. In addition, contractors and do-it-yourselfers (DIYs) have a chance to "show us their STUFF" and be automatically entered to win autographed merchandise simply by posting photos on Twitter showing how they use GREAT STUFF and including the hashtag #ClosingTheGap."
Learn more at www.greatstuffsweepstakes.com and tune in to ABC on August 23 to see Austin Dillon "close the gap."