Kalamazoo Industries offers new full-line catalog
Covers abrasive saws, sanders, grinders and related machinery.
---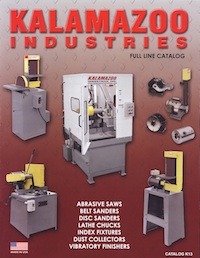 Kalamazoo Industries is offering a new, updated full line catalog of the company's abrasive saws, sanders, grinders and other components, including new additions to the line of abrasive cutoff saws.
These saws include the Model K12-14MS metallurgical saw that produces mirror-surface cuts, the Model K26E large capacity abrasive saw designed for foundries, and other metal working operations handling large workpieces, and the Model K10SW 10-in wet saw for "ideal" cuts in smaller workpieces, even when cutting high-alloy steel.
Other new products include the Model BSG14 back stand grinder for foundries needing to rapidly remove metal, the Model S272V multi-purpose belt grinder for grinding, shaping, contouring, or other work on small parts or short-runs, and the Model KVF3 vibratory finisher that is less expensive than hand finishing small parts.
The new Kalamazoo Industries catalog is available at: www.kalamazooindustries.com, or by contacting Kalamazoo Industries at 6846 East "K" Avenue, Kalamazoo, MI 49048, or by phone: 269-382-2050.