BeA Fasteners USA launches new website
Site features product sheets, 360-degree images, videos and parts schematics.
---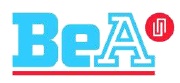 BeA Fasteners USA just launched their new web-presence at www.beafastenersusa.com. The completely redesigned site allows visitors to easily find the appropriate tool for their fastening application.
In-depth information about pneumatic tools, including product sheets, high resolution and 360 degree images, videos and spare part schematics, as well as information on BeA's wide array of fasteners and nails make the site a valuable resource for industry professionals and end-users alike.
The BeA-Group, Joh. Friedrich Behrens AG, was founded in Hamburg, Germany in 1910. Throughout the 100 years of its existence, the company has developed into a global corporation with total sales of about EUR 100 Mio (2008). The BeA brand is recognized for exceptional fastening systems.
BeA pneumatic tools and fasteners are well-known for exceeding highest quality and reliability standards. To consistently meet these high standards BeA is continuously optimizing and expanding its product offering. Utilizing innovative technologies allows BeA to set benchmarks in the fastening industry.
Subsidiaries and affiliates sell and distribute BeA products in Europe and the USA. The global success of the BeA-Group can moreover be attributed to agencies that have been established in over 55 countries.
Learn more about BeA at: www.beafastenersusa.com