Walter appoints new GM for Mexico
Walter Surface Technologies names Pablo Rivero Torres general manager for Walter Mexico.
---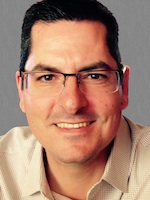 Walter Surface Technologies today announced that Pablo Rivero Torres has been appointed General Manager for Walter Mexico.
Mr. Torres will report directly to Pierre Somers, Chairman and Chief Executive Officer of Walter and will be responsible for continuing to drive growth and expansion for Walter in the region.
"Mr. Torres is a seasoned leader with demonstrated ability in consistently delivering results. His background and experience is perfectly aligned with Walter's goal of delivering leading edge innovations to market - and in so doing - helping our customers work better," stated Pierre Somers, Chairman and CEO, Walter surface Technologies.
Effective immediately Mr. Torres will have general management responsibility for sales, marketing, operations and services in Mexico. He will be focused in aligning and prioritizing the company's investments in the territory and ensuring operational excellence.
"The Mexican market presents tremendous growth opportunity for Walter's high-performance abrasives, power tools, and tooling, as well as the company's environmentally safe Bio-Circle industrial cleaning products and solutions," stated Mr. Torres. "Mexico's industrial base continues to strengthen and customers are demanding the quality products that Walter brings to market. I am totally focused and excited to help to lead the company through this next phase of expansion."
Prior to this appointment, Mr. Torres has worked for over 14 years in ascendant management roles with international and national manufacturing companies, having full responsibility over P and L.
He has extensive experience with industrial distributors and has worked as a buyer and in direct sales roles with customers from a variety of industries.
Mr. Torres is fluent in Spanish and English having lived for many years in the US. He holds a Bachelors degree in industrial engineering from the Universidad Regiomontana, in addition to a Masters in business management from the Instituto Tecnologico y de Estudios Superiores de Monterrey.
Learn more at www.walter.com