Cool Stories: Australia's third tallest building is going up
Structure will feature a glass curtain wall designed to take advantage of Brisbane's weather.
---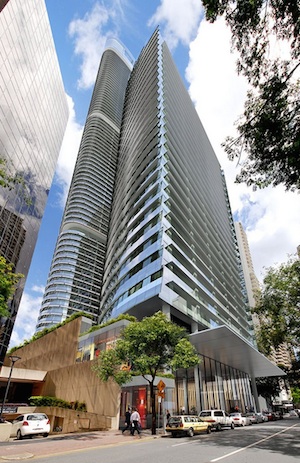 Work has now commenced on what will be Brisbane's tallest apartment building and the third tallest building in Australia.
Designed by Bates Smart and expected to cost $1 billion, the 300 metre high 'Skytower' will be situated at 222 Margaret Street Brisbane alongside a smaller building at 111 Mary Street—also designed by Bates Smart.
Together the pair of buildings, dubbed '111+222', will cover 157,900sqm of prime Brisbane real estate and comprise a 36 story 45,000 sqm commercial office building (111 Mary Street) and a 92 story five star hotel and residential tower (222 Margaret Street or Skytower).
At 300m in height to the architectural top of the building, Skytower will be one of the tallest buildings in Australia with the highest occupiable penthouse. It will sit behind Q1 on the Gold Coast (322m) and Eureka Tower in Melbourne (297m).
On completion, it will house over 1,100 apartments and a sky recreation facility on the 89th floor which will have Australia's highest infinity-edge pool.
Click here to read the entire story and see more photos.
Source: Achitecture&Design.com.au