Hyster celebrates opening of state-of-the-art Experience Center
51,000 sf. facility in Charlotte, N.C. contains training resource and event facility.
---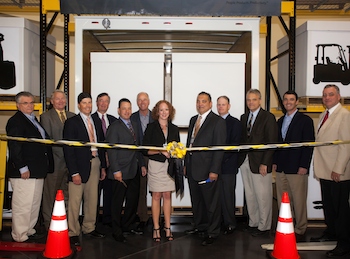 Hyster Company recently celebrated the grand opening of its new Experience Center located in Charlotte, N.C.
The 51,000 square foot state-of-the-art facility is designed to showcase Hyster's rich history, industry leadership and innovative solutions while also serving as a top-notch training resource and event facility.
Created with the needs of dealers and customers in mind, the Experience Center features an Applications Showcase area where "Every Station is an Education." Visitors can learn about the solutions, services and support Hyster provides while also learning about the importance of having the proper facility layout and tools to increase productivity.
The center also includes a Heritage Gallery with interactive displays that help bring Hyster's history, track record of innovation and firsts, global footprint and product information to life. As visitors enter the Heritage Gallery, they are welcomed by holograms of the company's senior leaders, which provide high level overviews of the company and what makes it unique.
In addition, the Experience Center features multiple training rooms where employees, dealers and customers have access to numerous learning tools, as well as extensive lift truck and industry knowledge.
"Hyster believes in building its products around the needs of its customers, rather than taking a one-size fits all approach" said David Furman, President of Sales and Marketing, Hyster. "The Experience Center is an extension of that belief, as every aspect of the facility was purpose-built to reflect our deep application-specific knowledge, and to provide the tools Hyster dealers and customers need to increase uptime, improve performance and drive business results through more effective and efficient equipment and processes. We are excited to welcome the industry to this facility and encourage them to take advantage of the powerful tools we have made available here."
Learn more at www.hyster.com.