DeWalt brings it home
Factory tour highlights DeWalt's reshoring program — and a bunch of cool new tools!
---
— by Tom Hammel
Straddling the state lines of North and South Carolina, DeWalt's cavernous 1.2-million square foot Charlotte distribution center has been home to the company's reshoring efforts since late 2013. Since kicking its manufacturing and assembly cells into gear in April 2014, DeWalt says it has performed final assembly on four million tools and wound armatures for two million motors for cordless drill drivers.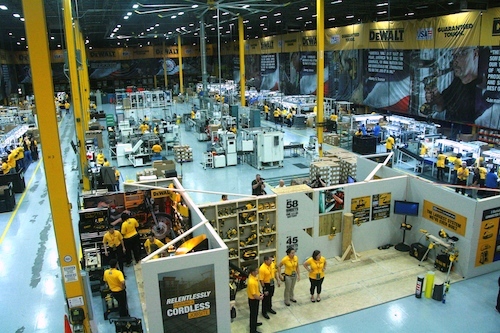 All told, the Charlotte DC is said to employ about 1,000 people including 350 manufacturing employees who build some of 60 corded and cordless tools that DeWalt now builds at least in part domestically. The 65,000 square foot banner-lined manufacturing center carved out of one corner of the massive facility. The manufacturing and assembly cells are currently running seven days a week.
On June 2 and 3, the company hosted journalists and bloggers for a day and a half of mixers, photo opps with driver Matt Kenseth at the NASCAR Hall of Fame and a day of demonstrations and tool-build activities on the plant floor itself.
Explaining the reshoring program, dubbed "Project Eagle," DeWalt vice president of operations Nick DeSimone feted Charlotte as the beta site for DeWalt's efforts to boost its percentage of Made-in-USA product.
Touting this effort is DeWalt's newest brand tagline, "Made in the USA with Global Materials."
If you choose to decode "global materials" to mean components from China, you've pretty much nailed it, but DeWalt was not trying to hide that reality of global manufacturing from prying eyes. Rather, pallets of components with the country of origin clearly marked were staged immediately adjacent to the assembly cells to feed the workers the parts they needed as tool shells, electronics, and motor assemblies came together, were tested, labeled and packaged.
Finished products then rolled a few yards over to the DC's high-bay VNA (Very Narrow Aisle) racking to await shipment to retailers and distributors across the United States.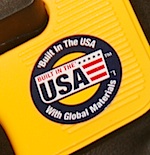 DeWalt's core customers will be happy too because their new tools will sport iconic little decals proclaiming that they are now "Built in the USA with Global Materials."
The Charlotte facility is building high-volume cordless brushed and premium brushless product and is also serving as a template for Project Eagle II, a conversion of part of the company's Greenfield, Indiana Bostitch facility to production of corded products. All told, the company has seven stateside plants where some manufacturing is taking place, including facilities in Connecticut, Maryland, Kentucky, North Carolina, South Carolina and Tennessee.
According to company reps, this means that DeWalt will shortly be producing 14 million products each year in the United States.
The corporate and consumer benefits of reshoring initiatives like DeWalt's are many: more jobs for America workers, including veterans, more than 1,000 of whom now work in DeWalt manufacturing facilities; greater ability to respond to domestic market demands, including 24-hour turn-around from parts-in to finished tools-out; and, we suspect, some healthy government incentives for job creation.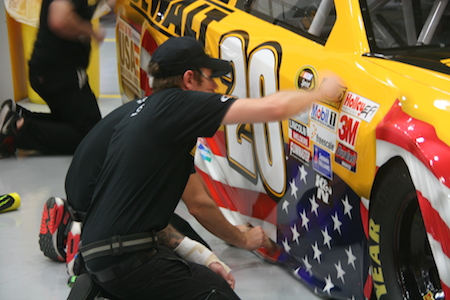 This falls in line with current math that offshore manufacturing is no longer the economic no-brainer that it once was, to say nothing of the "Buy American" factor.
According to a 2013 survey by the Consumer Reports National Research Center, 78 percent of Americans would rather buy a product built here at home than an identical one made abroad. That's math we can all enjoy doing.

"We continue to grow our domestic capabilities because the professional using our tools wants to buy products built in the USA. DeWalt is making the power tools for the contractors and builders who are themselves building America," said Frank Mannarino, president of DeWalt Professional Products Group.
"Whether it's through our high quality tools built in the USA with global materials, convenient service repair centers, or products backed by extensive warranties, the DeWalt professional end user can expect premium power tools that are built and serviced by fellow Americans – some of whom are veterans – right here in the United States."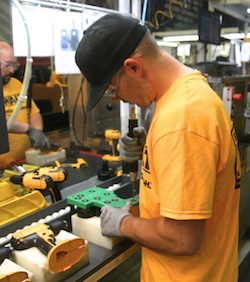 DeWalt director of manufacturing Craig Zielinski, explained the origins of manufacturing here in the Charlotte plant.
"In September 2013, this part of the Charlotte facility was empty," Zielinski said. "By October 9, 2013, we began producing high volume cordless tools here. Currently we have 16 assembly and packing cells and one motor manufacturing operation in this space. This facility enables us to ship product within 24 hours of its manufacture."
The assembly teams accomplish their work with a minimum of excess movement and are aided by lean manufacturing parts staging, Poka Yoke jigs and fixtures and sensor systems to ensure error-proof product assembly, testing and even labeling processes so that no tool can advance from one stage to the next in any way incomplete or missing even a single screw.
Thanks to these systems, the manufacturing and assembly workers have maintained a 98 percent service level since June of last year and have logged over a million accident-free worker hours to date.
"We're choosing to invest in domestic manufacturing because it's important that we maintain our connection with core DEWALT custo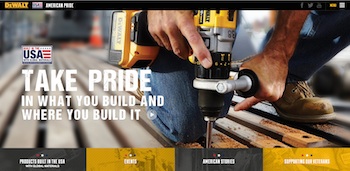 mers," DeSimone added.
"Not only can we build quality products in the United States, but we also care deeply about making things at home and bringing jobs back to the United States."
To help spread the word about its efforts, DeWalt has created a micro site at www.dewalt.com/americanpride and has uploaded a patriotic video about it at https://www.youtube.com/watch?v=OUvnKBDlEeo.
It looks like that care — and the strategy behind it — is paying off. Although the company can't yet claim MADE IN USA bragging rights, "Made in the USA With Global Materials" is a good start. Already the effort is driving more customers to the brand. That in turn should inspire the company to convert more former warehouse space to manufacturing facilities here in the U.S. and hire more people to work in them. What's good for the goose will indeed be good for the gander.
Now let's look at some of the new tools!
Cordless revolutions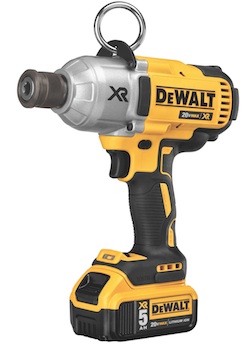 Since the Charlotte plant focuses on cordless tools, let's start with DEWALT's three new 20V MAX* Brushless High Torque Impact Wrenches. The impact wrenches are available in 1/2 Inch (DCF899) hog ring or detent pin anvils, 3/4 Inch (DCF898) hog ring with retention pin hole anvil and a 7/16 Inch (DCF897) quick release chuck specifically designed for utility applications.
These high-torque impact wrenches feature efficient, brushless motors and with the 5Ah 20V MAX* XR lithium ion battery pack they deliver the power, speed, and extreme runtime required by the professional.
The 1/2 Inch (DCF899) hog ring or detent pin anvil impact wrench delivers 700 ft-lbs of max torque and 1200 ft-lbs of max breakaway torque.
With three speeds for application-specific control these impact wrenches offer the convenience of cordless technology and save time by eliminating cords and hoses of electric and pneumatic impact wrenches. At 8.9 inches long and just 7 pounds each, they get into tight spaces easily and are comfortable to use over extended periods of time. These impact wrenches feature LED work lights.
Working the line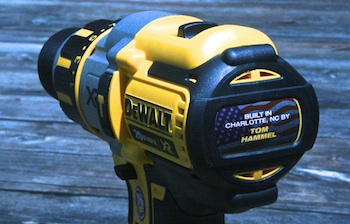 One of the niftier parts of the DeWalt press event was when we writers were allowed to build our own DCD995M2 XR Brushless Hammer Drill.
We took the mostly assembled tool through its final screws, power and function tests and labeling before it was boxed up and stacked for shipping to our offices.
I managed to "build" mine without too much trouble and only partially stripped one screw in the body. Actually, applying decals was tougher than driving screws. Best to leave that to the pros!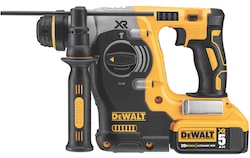 Hammer time
Speaking of hammers, DeWalt also introduced the crowd to its new model DCH273P2 1-inch 20V MAX* XR™ Brushless SDS Hammer, the company's first brushless rotary hammer.
Powered by a DeWalt-built brushless motor that provides 2.1 joules of impact energy, the DCH273P2 is optimized for chipping work and drilling diameters of 1/2-inch or less. With only 6.6 m/s² vibration felt by the user at the handle, this lightweight, SHOCKS-equipped rotary hammer is designed for comfortable use.
For jobsite endurance, the tool comes kitted with a 5.0-Ah Lithium-ion battery and is compatible with DEWALT's optional onboard D25303DH cordless HEPA dust extractor. The rotary hammer also includes a retractable utility hook that allows it to be hung from a belt, lifts ladder, cart or even a necklace if the user is into "industrial fashion." As is de rigueur these days, the hammer also has an LED with a 20 second delay for visibility in dim places.
Pneumatics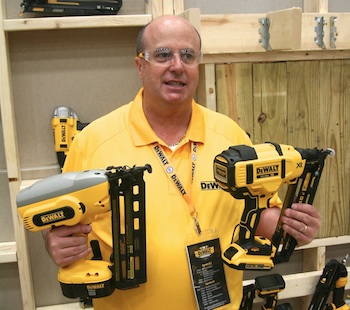 We recently announced DeWalt's 11 new pneumatic nailers and staplers on our site (click here for that release), but getting to play with a tool is immensely more informative and just plain fun than writing about it, and these tools are fun indeed.
Each is well balanced, solidly built and possesses nifty unique features that make its intended application a bit easier and more productively accomplished. DeWalt finish nailers feature Precision Point Technology, which provides easier nail placement through a smaller nose footprint.
Another example is a clever exposed tip design on the model DWMC150 Metal Connector Nailer, which enables positive placement into metal connectors for faster framing, joist and rafter work.
DeWalt's air compressors are benefiting from lower noise levels too; several models produce less than 75 dB. The 2.5 Gallon 200 Max PSI model DWFP55130 Quiet Trim Compressor delivers 3.0 scfm at 90 psi, all while producing just 71.5 dB of operating noise.
All screwed up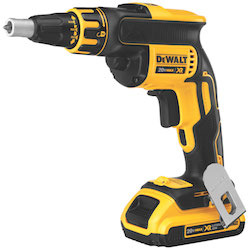 Although it was released this past February and such doesn't quality as a brand spanking new tool, the DCF620 20V MAX* XR Brushless Lithium Ion Drywall Screwgun with Extreme Runtime was a fun and fast tool for ruining the supplied drywall samples.
DeWalt managers claim the nicely balanced 3.3-pound tool can drive enough screws to hang up to 45 sheets of drywall with a 2.0-Ah battery, or up to 58 sheets with a 4.0Ah battery.
And at 4,000 rpm, it can do it in the same time as a corded screwgun. It will also accept the optional DCF6201 Collated Screw Auto-Feed Magazine Attachment for driving collated strips of screws.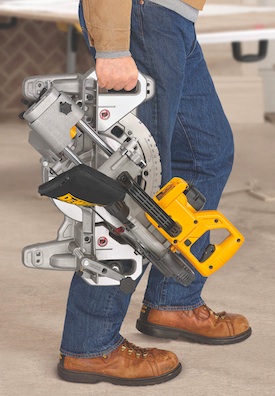 Cutting class

Not every new DeWalt cordless tool drives a screw or a nail however. Also highlighted at the event was DeWalt's new DCS361 20V MAX* Lithium Ion 7 1/4 Inch Sliding Miter Saw. This highly portable 31.6-pound cutter has integrated cast-in side handles so you can carry it like a suitcase around on the jobsite.
It has a 3 1/2-inch maximum vertical cut, 3 5/8 inch crown nested, a 2x8 inch horizontal cut capacity and a single bevel from -3° to 48° left. The DCS361 will make 180-plus cuts of 2x4 pine or 275 cuts of 3-1/4 inch pine base molding on a single 4.0Ah battery charge.
The saw also features DeWalt's proprietary and efficient XPS blade light, which casts a shadow precisely on the cut line. Other features include a stainless steel miter detent plate, 10 positive miter stops, a fast and easy cam lock and no-mar rubber feet.
In the current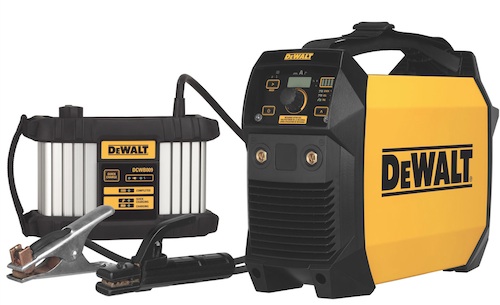 A more unusual cordless tool is the new DeWalt DCW100K Portable Stick & TIG Welder. This full-featured 140 Amps Max Stick (150 Amps Max TIG) welding unit weighs a mere 25 pounds and can be operated in cordless mode for maximum convenience or plugged into a 20-amp circuit or generator. Its internal lithium ion battery recharges in 50 minutes while the DCW100K is plugged in.
A digital display indicates the amperage and control values. A Hot Start/Soft Start setting allows the DCW100K to start easily and maintain a stable arc at low amperage. A battery status bar shows the remaining charge.
New corded tools include a brand new five-inch Variable Speed Random Orbit Sander, the first in a new line of sanders from DeWalt. To minimize vibration, the DWE6423K features a separate counterweight that provides the user with comfort and control and an expanded rubber over-mold increases user comfort.
A new rubber dust skirt minimizes dust escaping around the pad and a one-handed locking dust bag works with DEWALT DWV012 and DWV010 Dust Extractors and the Universal Connector System. Weighing only 2.9 pounds, the 3-amp DWE6423K delivers 8,000 to 12,000 OPM on a 3/32-inch orbit.
One more thing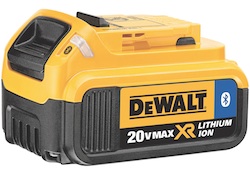 Here we get to the point where, if Steve Jobs were running this show, he would pause and say, "Oh, and one more thing."
At the DeWalt event, that one more thing pertained not to new tools but to the batteries themselves. The company's new 20V MAX* 2.0-amp (DCB203BT) and 4.0-amp (DCB204BT) Lithium-ion batteries with Bluetooth capability promise to open a brave new world of connected usage and tracking capabilities.
Aptly named Tool Connect, the new system pairs these batteries with Apple and Android smart devices via a free Tool Connect App.
From the Tool Connect App home screen, users can select an individual battery to view its diagnostics and change settings by tabbing through four pages: Diagnostics, Actions, Info, and Alerts.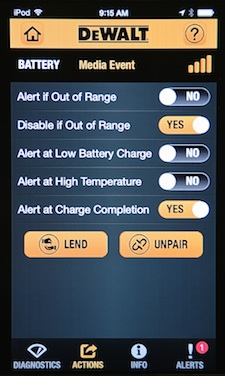 The Diagnostics screen indicates an individual battery's state of charge, temperature, and connection to Bluetooth. This screen also allows users to enable and disable a particular battery.
By disabling a battery, the user prevents it from being used until re-enabled. This feature makes it easy to shut down equipment at the end of the day to conserve battery life and deter theft.
The Actions screen (right) allows the user to customize alert preferences depending on what information they need and when they need it. These options include Alert if Out of Range, Disable if Out of Range, Alert at Low Battery Charge, Alert at High Temperature and Alert at Charge Completion.
In addition, this screen offers a Lending Button, which allows battery sharing. The user can select an amount of time for the tool (with battery) to be lent and when the time is exceeded, the battery shuts down and the owner receives an alert.
For the early-adopter who runs a business on a jobsite, this technology allows greater control over tools in residential, MRO, and commercial work sites. Naturally, a technology this new will also deliver as-yet undiscovered applications as it matures. For now, we deem it "Highly Intriguing."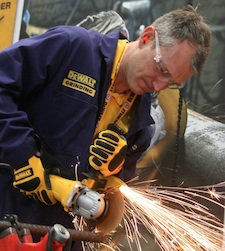 And more to come
There you have it — lots of takeaways and intriguing new tools and technologies from DeWalt. And we didn't even talk about them all.
Perhaps most impressive is DeWalt's aggressive program to assert itself as a truly American premier brand. We laud the effort and trust it is a sign of more good things to come.
As an Iowa Hawkeye from way back, I have a natural affinity for black and gold, so I welcome DeWalt's reshoring initiative as several steps in the right direction. Well done. CS