SENCO unveils new website
Site focuses on easy access to information, including from mobile devices.
---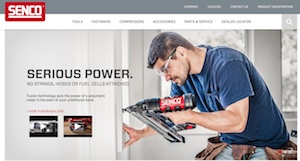 Expanding on its promise to make hard work easier, SENCO has launched a completely new, responsive website and a separate, dedicated mobile site.
When visiting SENCO.com or m.SENCO.com, users will experience improved navigation and functionality, access to detailed product information, a product cross-match with accessories or fasteners, product videos, and a new dealer locater for service or sales, among many other new and exciting features. SENCO partnered with an award-winning partner, LEAP, to create this new and best-in-class digital experience.
Of particular interest is the dealer locator function that helps the site visitor find the closest SENCO sales location, authorized warranty repair center or service center by their zip code and search preferences.
An integrated product guide can also point the user to the right tool or fastener for a certain application, related accessories to get the job done, and then provide an interactive map of dealer locations for quick pick-up.
Enhanced product pages feature a complete, 360° view of the product with a high-level overview, detailed specs, product literature, related products and fasteners, documentation and forums. Users can easily locate repair kits. Appropriate accessories and fasteners for each tool are also listed.
Access to parts by product are now featured on the site in a Parts by Product section enabling quick and easy reference to anything needed for repair.
The new website has also been designed to answer users' questions. It includes an FAQs section and a section for comments on every single product page to facilitate direct interaction.
For more than 60 years, SENCO has helped generations of hardworking professionals get the job done right by delivering innovative fastening solutions that make hard work easier.
Offering a complete line of accessories, compressors, repair kits and parts along with a certified warranty repair network, SENCO is accessible across the globe and distributes a wide product offering through professional distribution outlets in more than 40 countries.
Committed to its heritage and pioneering of this industry, the company proudly manufactures more than eighty percent of its fasteners in its Cincinnati, Ohio facility.