ACMA Introduces CompositesLab
New online resource for composites information.
---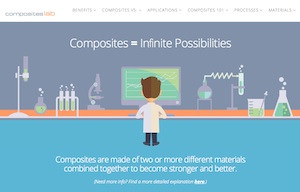 Everything you always wanted to know about composites, in one place.
The American Composites Manufacturers Association (ACMA) has launched CompositesLab, a comprehensive online guide to the composites industry. The new website (www.compositeslab.com) features original content to help visitors learn about composites and the many ways in which they are used.
CompositesLab features a wealth of original content, including:
An in-depth explanation of the science behind composites, the history of composites, and an industry overview.
Information about the benefits of composites, such as strength, light weight, corrosion resistance, design flexibility and durability.
Comparisons of composites with steel, aluminum, wood and granite.
Case studies detailing the use of composites in several industries, including automotive, architecture, and infrastructure.
Detailed explanations of the many different materials and processes used to make composites.
"Before CompositesLab, there was no one stop shop for information about composites," said Tom Dobbins, president of ACMA. "As the leading industry association for composites, ACMA is committed to raising visibility for composites and their many uses. CompositesLab is an important step in our efforts to help educate target audiences about the benefits of composites and continue to grow our industry."
The website will continue to evolve in the coming weeks and months, offering additional case studies in new markets, a buyer's guide for suppliers, and even more original content.
ACMA hosts two other websites relevant to the industry: ACMA's association website is targeted to ACMA members and prospective members and provides information about the association. Composites Manufacturing Online provides feature editorial coverage about current uses of composites.