Developer breaks ground on all-timber office building in Minneapolis
Seven story building will be tallest all timber structure in the U.S.
---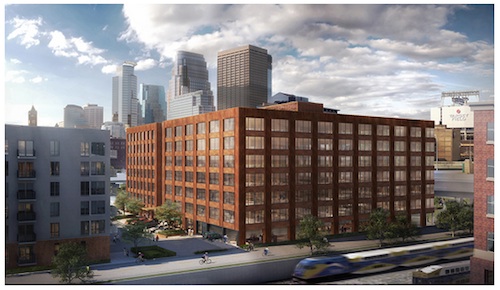 Developer Hines has broken ground in Minneapolis' North Loop on its all-timber office building, the first commercial property in the U.S. to use an engineered wood material for its interior and structure.
The Houston-based real estate company announced Monday the start of construction on the 220,000-square-foot, seven-story office building (being called T3 for its emphasis on timber, transit and technology) that has garnered national attention.
Hines hired Vancouver-based Michael Green Architecture, in conjunction with DLR Group, to design the building. Michael Green is among the world's foremost experts in heavy timber construction and an advocate for timber as a sustainable building material. While old-growth timber -- the kind needed to support the weight of a tall building -- is unavailable for construction today, an engineering process that presses smaller pieces of wood together can re-create the load capacity of heavy timber.
Following the initial announcement in November, the Wall Street Journal showcased the project, saying it will be the tallest modern all-timber structure in the U.S. once completed. Hines said Monday that it expects the building to open in early fall 2016.
Click here to read the entire story.
Source: StarTribune.com/Kristen Leigh Painter