Mortenson names new Sports Group business manager
Caitlin Van Winkle becomes Business Development Manager.
---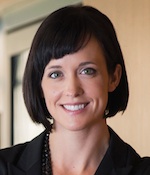 Mortenson Construction, a leading builder of sports and entertainment facilities in the U.S., is pleased to announce the addition of Caitlin Van Winkle as Business Development Manager of the Sports Group. In her new role, Caitlin will foster relationships with new and existing customers while leading strategic business development efforts within Mortenson's growing collegiate sports market.
Caitlin brings both professional and collegiate sports partnership experience to the team. Her sports resume started as the assistant general manager of an independent baseball club in St Cloud, MN, followed by a competitive internship at the Golden State Warriors and two years as a corporate sales executive at the Minnesota Timberwolves and Lynx.
For the past three years, Caitlin was the director of a top-ranked college internship program at Northwestern Mutual, which included partnering with local university athletic departments.
"Caitlin joining the Mortenson team is a real benefit for our customers and our sports business," said Logan Gerken, Director of Project Development for Mortenson's Sports Group. "She has a passion for understanding customer needs and delivering customized solutions to improve their business. Her experience with marketing and sponsorships in the NBA and knowledge of collegiate athletics makes her a unique compliment to our group. We are very excited to have her as part of the team."
Born and raised in North Dakota, Caitlin earned a Bachelor's Degree in Marketing with an emphasis in Sports Marketing from St. Cloud State University in 2004.
Founded in 1954, Mortenson Construction is a U.S.-based, family-owned construction company. As one of the nation's top builders, Mortenson provides a complete range of services, including planning, program management, preconstruction, general contracting, construction management, design-build, and turn-key development.
Mortenson has offices in Chicago, Denver, Milwaukee, Minneapolis, Phoenix, Portland, San Antonio and Seattle, along with operations in Canada. For more information, visit www.mortenson.com.