Posted December 14, 2015
New Midwest STIHL location supports growing dealer network
STIHL facility in Cottage Grove, Wis. will service larger area and allow for next-day delivery.
---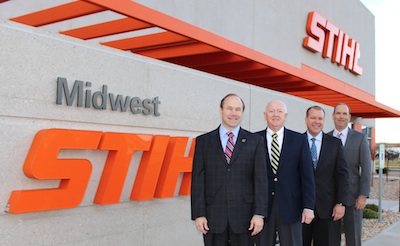 STIHL executives (L-R), Joe Hickey, branch manager, Midwest STIHL; Fred Whyte, president, STIHL Inc.; Bjoern Fischer, incoming president, STIHL Inc.; Murray Bishop, manager of export and logistics, STIHL Inc..celebrate the grand opening of STIHL's Midwest facility in Cottage Grove, Wisconsin.
STIHL Inc. celebrates the grand opening of its new Midwest STIHL location in the Village of Cottage Grove, Wis. In January it was announced that STIHL Inc. would relocate the operations of Mississippi Valley STIHL of Peoria, Ill. and Midwest STIHL Inc., of Hayward, Wis. to establish a new single distribution site.
Completed in October, after only six months of construction, the new 65,750-square-foot facility demonstrates the company's continued investment to improve overall operations and support dealer growth in the mid-northern region of the U.S.
"We are extremely pleased to celebrate the opening of this new distribution location because it represents our continued focus on serving our dealers and customers more efficiently," said STIHL Inc. President Fred Whyte, who attended the ceremony.
STIHL selected the Village of Cottage Grove for its access to the I-90 and I-94 corridors that are main routes for deliveries to STIHL dealers.
In addition to a central location, the new facility was designed to drive efficiencies to further enhance dealer support and responsiveness. The new facility includes expanded warehouse capabilities with efficient racking and storage systems, improved pick and pack processes that reduce errors and increase productivity and nine loading doors to handle inbound/outbound freight. As a result, Midwest STIHL will be able to provide one-day shipping service to most of the 1,000 servicing dealers in the region.
Additionally, Midwest STIHL can now offer enhanced training and technical services capabilities to their dealers in their new indoor/outdoor training facility and state-of-the-art workshop.
STIHL Inc. distributes its products across the U.S. through a two-tiered system, selling products through a network of independent distributors and company-owned branches. Distributors and branches, in turn, sell products to authorized STIHL servicing dealers nationwide.
The new Midwest STIHL facility occupies almost 10 acres and employs roughly 40 employees, bringing ten new jobs to the area. Midwest STIHL began service to dealers in Iowa and Illinois in November and will officially start servicing the remainder of the territory including, Minnesota, Wisconsin and the Upper Peninsula of Michigan on Feb. 1, 2016.
For more information on STIHL Inc., visit www.stihlusa.com.