Dodge Momentum Index springs forward in March
Continued upward trend signals increased construction activity for the rest of the year.
---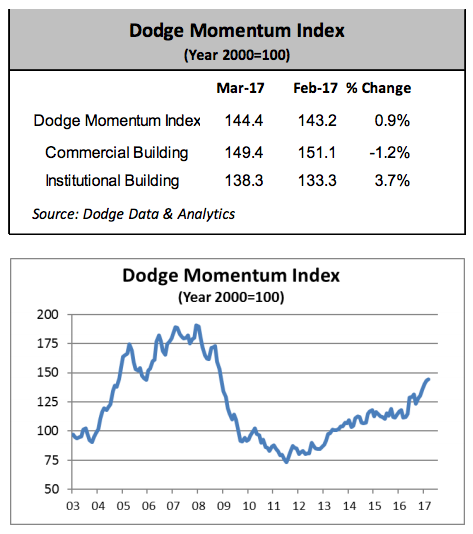 The Dodge Momentum Index increased by 0.9% in March to 144.4 (2000=100) from its revised February reading of 143.2. The Momentum Index is a monthly measure of the first (or initial) report for nonresidential building projects in planning, which have been shown to lead construction spending for nonresidential buildings by a full year.
The Momentum Index has now risen for six consecutive months, with much of the gain being driven by institutional projects entering planning while commercial projects so far in 2017 have receded slightly.
The institutional portion of the Momentum Index rose 3.7% in March, and is 23.0% higher than the end of 2016.
Commercial planning meanwhile fell 1.2% in March and is down 2.9% from December 2016.
However, the overall Momentum Index, as well as the commercial and institutional components, are well above their year-ago levels. This continues to signal the potential for increased construction activity in 2017 despite the short-term setbacks that are inherent in the volatile month-to-month planning data.
Learn more at www.construction.com.