Posted April 18, 2017
Festool issues Spring 2017 "Finish Line" for professional painters
Magalog features case studies, techniques and products.
---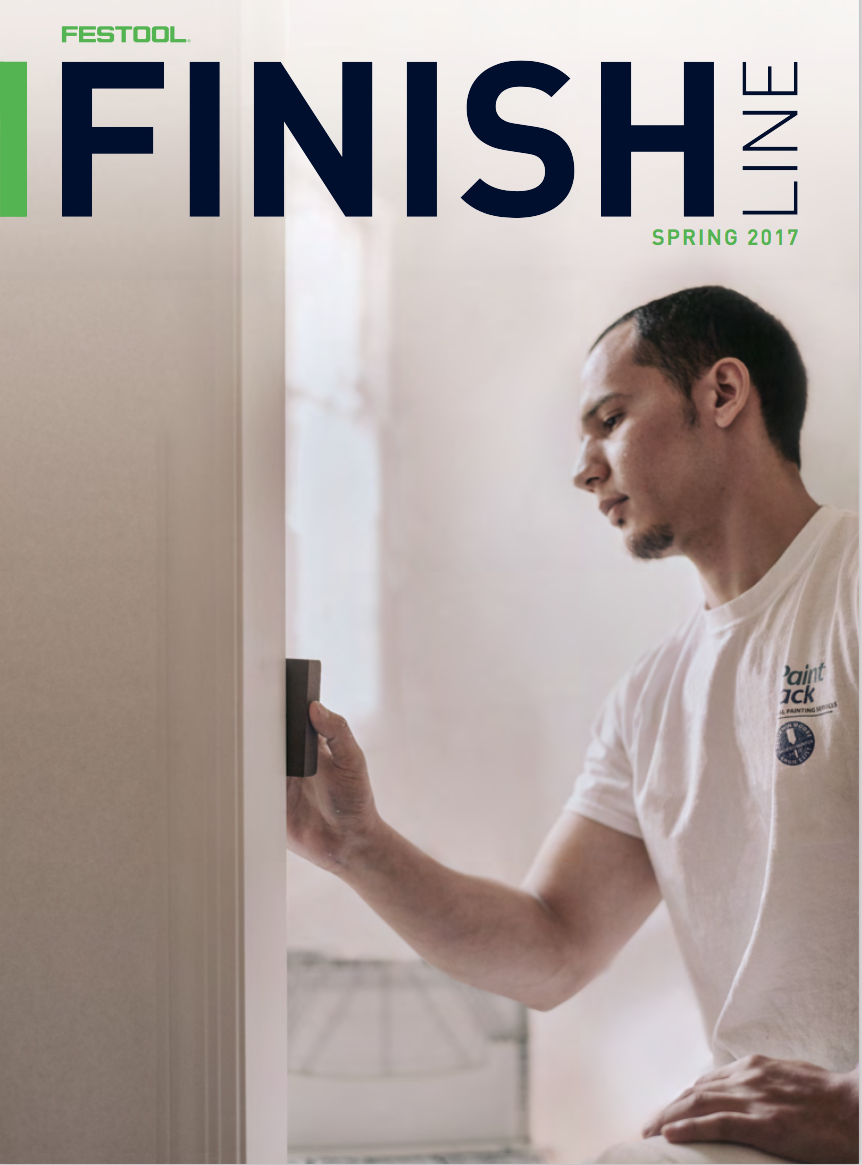 Festool USA has just released the Spring 2017 issue of "Finish Line" for professional painters.
Available via download at no charge, "Finish Line" features customer profiles that range from Paint Track, founded by a former computer programmer, Ray Rahni, to Prep to Finish, an onsite and online service for training.
The Spring 2017 Finish Line is a 64-page magalog that includes a host of application-specific product information that spans training, service preparation and customer service.
"With each issue, 'Finish Line' provides both real business, best practices and other application and product information to educate our growing customer base of professional painters," says Johannes Frick, head of business development/paint, at Festool. "The Finish Line format for showcasing successful painting contractors along with great information on tool applications, engages and informs paint professionals so that they can be more successful."
The Spring 2017 issue of "Finish Line" also features:
Pursuing Perfection – See how Van Matre Productions deals with last minute builds and finishes for set designs in the thriving film industry in Atlanta, GA
A New Way to Learn – A case study of Prep to Finish, and how it helps both new and experienced painters via online training and live workshops.
Keeping the Jobsite Clean – Learn how Just Add Paint, founded by Chris Tankersley, keeps his customers happy and his jobsites clean.
Professional Paint Application Sets – from interior door sets to crown molding and exteriors, Finish Line provides everything the professional needs for specific – and general – job types.
"Finish Line" also covers a wide-range of information on Festool tools and specific application information. Going far beyond a product catalog, it provides a resource for professional painters who are looking for tools and techniques that will help them be more profitable.
See the complete library of Festool Paint customer profiles and case studies here.
Founded in Germany in 1925, Festool is known for its innovative, precision-engineered power tool solutions. Based in Lebanon, IN, Festool USA offers a comprehensive lineup of power tools and system accessories, designed to boost productivity through efficiency and high performance. For more information, visit www.festoolpaint.com.