Posted April 26, 2017
Topcon expands Solutions Store network
Distributor Solutions Stores grow to 11 locations across the U.S.
---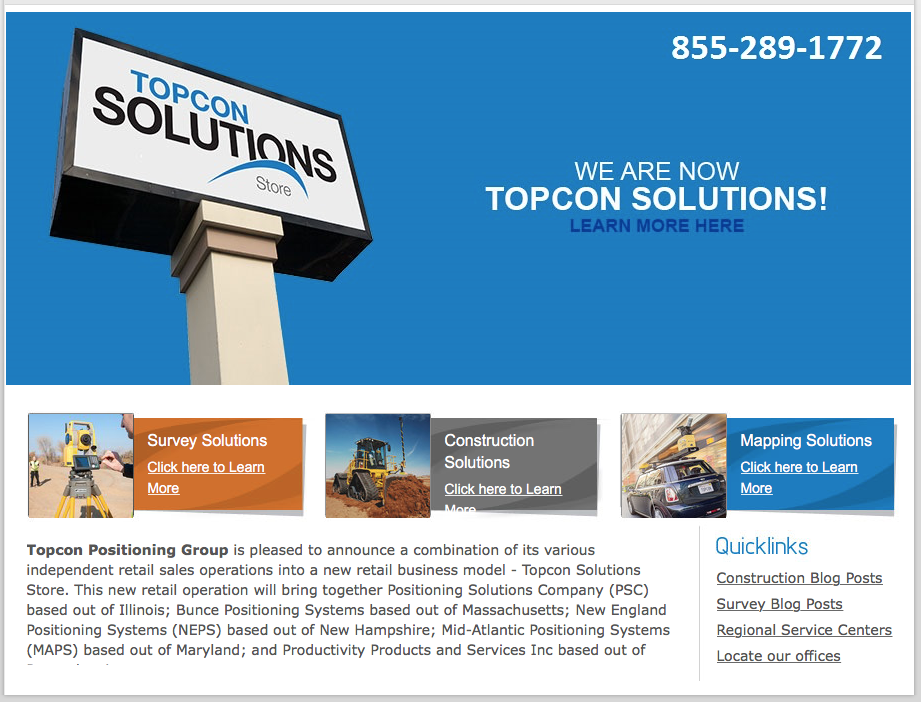 Topcon Positioning Group announces the newest addition to the Topcon Solutions Store distribution network. Griner and Schmitz Incorporated, headquartered in Kansas City, Missouri, is the latest positioning distributor to join the network, which brings the total to 11 locations in North America since its creation in early 2016.

"Griner and Schmitz has long been well regarded in customer support and business growth in the Kansas City region, and offers a wealth of experience in meeting customers' needs. Now, joined under the Topcon Solutions Store business model, its strengths will be combined and advanced by the experience and capabilities of the other locations as well," said Terry Studebaker, director, Retail Operations.

The company adds more than 100 years of experience in the surveying, construction, and engineering industry to the Topcon Solutions Store network.

Jim Martin, vice president of Griner and Schmitz, said, "Throughout our long history, we have always been dedicated to providing the very best experience for our customers. Now, as part of the Topcon Solutions Store network, we will enhance those abilities across all phases of operations and over a much larger geographic area."

Studebaker said, "The Topcon Solutions Stores are dedicated to the concept of a holistic approach for meeting the demands of our customers. Whatever the application, customers can count on the Solutions Store for a local partner to address all of their positioning needs. This newest member of the network in the Kansas City area elevates our ability to provide that integrated service to a larger and expanding market."

The addition extends Topcon Solutions Store offerings to two locations in Missouri with the other in the St. Louis region. Additional locations include Berlin, Conn., Carol Stream, Ill., Indianapolis, Ind., Annapolis Junction, Md., Stow, Mass., Niles, Mich., Concord, N.H., Saxonburg, Pa., and Waukesha, Wis.

Store information is available at topconsolutions.com.