Posted May 11, 2017
Calbond Form 8 fittings earn NEMA 4x certification
Form 8 conduit bodies earn cerification for protection against the elements.
---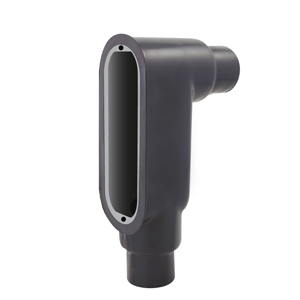 Calbond offers a complete line of Form 8 conduit bodies that are now NEMA 4X certified.
All Calbond products are manufactured at the company's state-of-the-art PVC coating facility in Santa Paula, CA. Calbond conduit bodies feature a 40 mil minimum exterior coating, a 2 mil interior urethane coating, sleeved threaded ends, and plastic encapsulated stainless steel screws.
Additionally, each fitting goes through a series of QA/QC procedures, ensuring a quality product designed for the most demanding applications.
"NEMA 4X certification requires that enclosures constructed for either indoor or outdoor use provide a degree of protection to personnel against access to hazardous parts, as well as ingress protection against water, corrosion, ice, and particulates such as windblown dust" said Mike Lang, Calbond Product Manager. "We are proud to announce that our complete offering of Form 8 fittings meets this requirement and now carries the NEMA 4X certification."
Calbond conduit bodies are offered in a variety of sizes and configurations. All Calbond Form 8 fittings adhere to the UL Listed Standard 514B and CSA Standard: C22.2 No. 18, making them the ideal choice for any harsh environment where corrosion resistance is a chief concern.
For more information about Calbond's complete line of PVC coated products, visit www.calbond.com; email info@calbond.com; or call 562-803-4388.