Posted June 27, 2017
Top California home builders aim for net zero energy goal by 2020
SunPower installs solar at 1,000th new home community.
---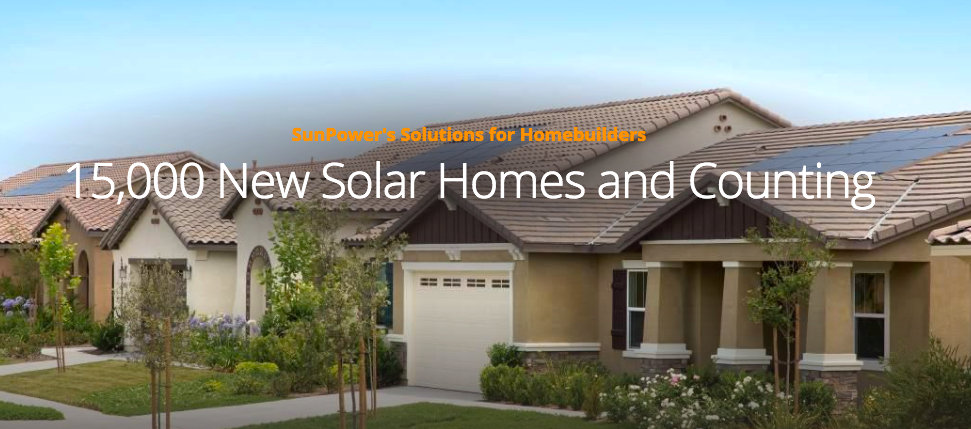 Developers are building an average of 80,000 new California homes a year, but the state needs another 1.8 million by 2025 in order to keep pace with its growing population, according to a 2017 report from California Department of Housing and Community Development.
As of January 1, 2017, new construction homes must meet more stringent building energy codes that require higher levels of energy-efficiency, and many builders are turning to solar to achieve these goals.
SunPower Installs Solar at 1,000th New Home Community
This summer, SunPower will have installed solar at its 1,000th new home community. Working with new home builders since 2005, SunPower has already enabled about 25,000 newly-built homes across the country to be more energy-efficient with high performing residential solar systems; far ahead of California's Title 24, Section 6 code change that will require solar for all newly constructed homes in California in 2020 and beyond.
"Going with SunPower was a decision made after thoughtful consideration of potential solutions to meet the new energy code," said Craig Merry, Division President of Richmond American Homes in Northern California. "Their program and products offer cost-effective solutions, while providing marketing support in our sales centers and energy savings to homebuyers. SunPower has completed over 2,000 homes for Richmond American through our valued partnership, and we trust the value of their products and their performance on our job sites."
SunPower is currently partnered with 10 of the 13 largest builders in the U.S. This year alone, about 1,500 new construction homes have already been constructed with SunPower high efficiency solar systems as builders respond to a growing demand for solar homes, driven by increasing awareness that solar can significantly reduce the cost of home ownership.
This week, Matt Brost, SunPower's new homes senior director, will speak at PCBC, the largest homebuilding tradeshow representing the West Coast region, to educate building industry attendees on the important role of solar in the current code. Brost will also address how the industry expects the next code update to impact new home construction in 2020, as California continues its progress toward zero energy residences.
SunPower has showcased its expertise in meeting code compliance through the SunPower Up™ program, designed to help builders cost effectively comply with energy codes like Title 24. The program keeps construction costs down and increases marketability while empowering homeowners to choose lower cost alternatives for powering their new home.
"When compared to other energy efficiency measures, solar adds greater energy savings benefits to the homeowners who will ultimately occupy the home," said Martin DeBono, SunPower executive vice president, residential solar. "Incorporating solar into the construction of a home, while it's being built, makes a lot of sense, especially when homebuyers can reap the rewards of paying less for their electricity."
The California Energy Commission's New Solar Homes Partnership (NSHP) is part of the comprehensive statewide solar program, known as the California Solar Initiative. The NSHP program has provided incentives to builders to help prepare the building industry and achieve the 2020 goal of zero net energy homes.
Since the program began in 2007, nearly 27,000 new solar homes have been completed by over 450 participating installers. SunPower has completed nearly half of all these homes, according to information provided by the Commission.
"The NSHP has helped catalyze solar on new construction," said David Hochschild, California Energy Commissioner. "I'm glad to see that solar has a significant role in California energy code, which will help our state reduce pollution, build energy independence and reduce energy bills for Californians."
For more information on how solar can help builders meet coming code changes, visit SunPower on the exhibition floor during this week's 2017 PCBC Expo in San Diego, Calif. Learn about SunPower's experience helping homebuilders and homeowners go solar by visiting www.sunpower.com/home-builders.