Posted September 13, 2017
Mayhew Tools teams up with racecar driver Bobby Santos III
Inks sponsorship deal with United States Auto Club Silver Crown Series and King of the Wing National Sprint Car Series.
---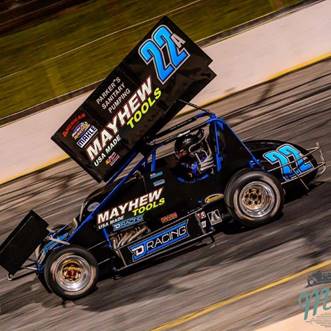 Mayhew Steel Products (Mayhew Tools) announces a new technical alliance partnership with the United States Auto Club (USAC) Silver Crown Series and King of the Wing National Sprint Car Series racecar driver, Bobby Santos III.
The alliance kicked off at the USAC Silver Crown in Salem, Indiana on August 13, 2017, where Santos debuted the new Mayhew Tools brand on his car for the race event.
Mayhew Tools is a leading manufacturer of hand tools for the automotive market. In addition to Santos' sponsorship, Mayhew Tools has also sponsored Doug Coby in his NASCAR Whelen Modified Tour and Woody Pitkat in his Modified Racing Series.
Mayhew Tools has found a win-win strategy in racing-related sponsorships, as President of Mayhew Tools, John Lawless explained, "The passion and commitment our team instills into the craftmanship of our tools is like that of a racecar driver toward their craft. Bobby is a great ambassador for the auto racing industry and we are certain that he will also be a great ambassador for Mayhew Tools."
"I am excited about forging a new partnership with John Lawless and Mayhew Tools," commented Santos. "Their dedication to manufacturing tools that are exceptional, reliable, and tough is second to none. I look forward to promoting this great company and am truly grateful for their help with my racing career."
"We have established a solid foundation of brand awareness within the auto racing industry in the Northeast," commented Eric Mills, VP Sales & Marketing, Mayhew Tools. "And we are continuing to build upon that presence and strategy by partnering with different series and teams, like Bobby Santos III, to increase Mayhew's exposure."
Mayhew Tools has grown over the last 160 years from a small tool house to an industry leader. Mayhew tools are made in the USA and sold through an extensive network of global distributors.
For more information, contact Mayhew Tools at 800.872.0037 or visit www.mayhew.com.