Posted October 3, 2017
Simpson Strong-Tie launches microsite for OSHA silica dust regulations
Site includes a fact sheet, answers to common questions and direct access to the silica construction regulations in both English and Spanish.
---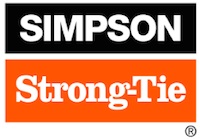 In response to the new Occupational Safety and Health Administration (OSHA) regulations to protect workers from exposure to respirable crystalline silica dust, Simpson Strong-Tie, an industry leader in engineered structural connectors, anchors and fasteners, has launched a new silica dust microsite to help contractors, builders, engineers and other building professionals safely comply with the new construction standards.
Effective September 23, 2017, OSHA has mandated an 80% reduction in jobsite exposure to silica dust, a by-product from drilling into concrete and concrete blocks. Specifically, the mandate entails reducing the permissible exposure limit (PEL) for respirable crystalline silica to 50 micrograms per cubic meter of air, as averaged over an eight-hour work shift.
The new Simpson Strong-Tie microsite is designed to enable users to quickly grasp OSHA's updated requirements via downloadable information and government documents — including a fact sheet, answers to common questions, and direct access to the silica construction regulations in both English and Spanish.
Through these resources, building professionals can learn about the programs available to help them meet the stricter criteria, train employees on silica safety and provide flexibility to workers without incurring penalties or citations. The page also directs readers to details about Simpson Strong-Tie OSHA-compliant solutions to silica dust creation, including the Speed Clean DXS dust extraction system, compatible and code-listed with both AT-XP anchoring adhesive and SET-XP anchoring epoxy.
"Offering the most current resources is a critical initiative for our team as the industry continues to update regulations for safety," said Jeremy Gilstrap, Vice President of Engineering. "When it comes to jobsite protection and regulatory standards, it is essential that information is easily accessed and comprehensible, which is why we decided to offer the regulations in English and Spanish."
Prepare for the new OSHA requirements now by visiting strongtie.com/oshasilica. Additional information on OSHA's silica regulations can be found at osha.gov/silica.