Posted November 8, 2017
CIHS 2017 sets new industry benchmark
Shanghai hardware show draws 50,000.
---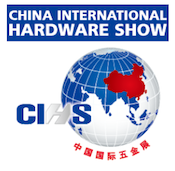 The annual China International Hardware Show, held October 22-24, 2017 at the National Exhibition and Convention Center in Shanghai, ended on a high note.
Held for the past 17 years, CIHS is devoted to accelerating the development of China's hardware industry, as well as providing access for global hardware manufacturers to growing markets in Asia.
This year, CIHS achieved breakthroughs on various fronts, including the number of visitors and diversity of the exhibits. Among nearly 3,000 exhibitors from 20 countries and regions, the German Pavilion once again received much attention.
Buyers were also impressed by pavilions from Taiwan and India, as well as exhibitors from the US, Japan, Italy and Hong Kong. Tens of thousands of trendy and practical products, new arrivals, cutting-edge technologies and advanced equipment were showcased at the event.
Visitors experienced first-hand leading technological innovations, business concepts and service models from home and abroad over the course of three days.
More than 50,000 visitors from over 90 countries and regions visited CIHS and selected high-quality products according to their purchasing needs. Visitors coming from emerging markets accounted for most of the growth.