Posted November 29, 2017
International Hardware Fair Cologne: Let's get connected
The 2018 show trends toward more digital interconnectivity between exhibitors, attendees and products.
---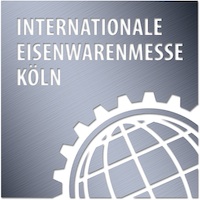 As a result of increasing digitalization, our world seems moves faster and faster all the time. At the coming EISENWARENMESSE - International Hardware Fair Cologne, the key areas of tools, industrial supply, fasteners and fixings, and fittings as well as home improvement will convey an impression of how this theme is also dominating the hardware industry.
The industry's most important international trade fair is being held in Cologne under this year's motto "work hard - rock hard" from March 4-7, 2018.
It has become traditional for Koelnmesse to interview the exhibitors on the current trends in the run-up to EISENWARENMESSE - International Hardware Fair Cologne. Over the past weeks, numerous companies have submitted their feedback, without revealing any concrete details however. They are saving these up for the first day of the trade fair, when here and there an exhibitor intends to literally "let the cat out of the bag". So, it is going to be exciting again! Here are some of the trends below.
Increased networking
Networking is gaining more and more significance in the high-quality tools segment. For example, integrationable torque wrenches with radio modules for networked production are increasingly advancing beyond the testing stage. For many suppliers of precision tools, the new version of the DIN EN ISO 6789:2017 norm, which demands more complexity when calibrating torque tools, is a topic of conversation in the dialogue with the specialized trades. In addition to the display deviation, the norm also stipulates that a host of possible uncertainty parameters have to be recorded.
The theme standardisation plays a role in Cologne, but also among the suppliers of access technology products, because from the beginning of next year onwards the new DIN EN 131 comes into effect for portable ladders.
This norm applies for all suppliers of access technology products. Stipulations include the requirement for all single single ladders that are 3 metres or more in length be equipped with an enlarged base. The anti-slip and torsion resistance provisions have also been revised. One exhibitor is presenting a novel base changing system for stepladders — the bottom of the ladder can be swapped out to suit the respective flooring in a few simple steps.
Tool suppliers are also gearing themselves up for stricter requirements in workshops and production factories where work is carried out on live components. One exhibitor is presenting a new VDE torque wrench especially for such applications.
More performance
Taking a look at power tools, a clear trend toward even more powerful battery-operated tools is recognizable. When the professional wants to use wireless tools big-scale, the difference to mains-operated devices or motorised tools for the garden and landscaping sector shouldn't be too great. 54-volt battery systems - compatible with 18-volt devices and tools - are thus an answer to providing electrical tools with even more power and performance.
Flexibility in the workshop is also a keyword. Employees are often deployed at different places of work. However, if possible they prefer to use their own tools. This is only possible if mobile workbenches or workshop trolleys are available. The trolleys are a transporter and workbench in one. Stable multifunctional worktops as well as large and sturdy drawers with sufficient room and storage space for bulky tools are matter of course. The corresponding large wheels provide sufficient stability.
New and improved versions of these wheelable workbenches will be exhibited in Cologne. Of course anyone, who wants to be mobile, always needs the appropriate tools. One supplier is presenting an upgrade of its case trolley that is especially suitable for electricians and is filled with the perfect alignment of tools for the professional working day. These include among others a torch or a dowel hole borer.
Large, bulky or heavy items have to be moved frequently in every workshop, but also on building sites. In order to make this task as easy and effortless as possible, transport and assembly devices are to be implemented where possible. Stable transport trolleys that can also easily overcome steps, versatile platform trucks or ergonomically balanced wheelbarrows are examples.
Smart home and individuality
A current survey reveals that the smart home market in Germany will increase up to around Euro 4.3 billion between 2107 and 2022. The activities of many exhibitors in Cologne show that this is realistic.
Smart home, the intelligent networking of different house functions, is of course more than just an app that can be used to operate the blinds. Electronic products are becoming more compact, convenient, efficient and intuitive.
Lamps are a good example: LED technology enables a light output that could only be achieved at significant expense a few years ago. And what's more, their power consumption is very low.
At the same time, electronics are becoming more intelligent. For instance, thanks to remote switches with a self-learning coding. In this way, the products can be adapted more readily to suit the individual needs of the users.
Individuality is also a key issue when designing one's own four walls. For example, wall colors suppliers take seasonal moods into account and reflect them in color mixtures. Another trend is placing photos on the wall. However, the days of the good old photo wallpaper are over - today top quality wall design is called for. Photo walls with breath-taking natural scenes or even shots of famous heroes from TV series are also currently in high demand.
Today though, the end users want to have their building and renovating projects carried out as quickly as possible. Many manufacturers are reacting to this and are offering products that save working steps or which excel through their fast load-bearing capacity.
Learn more at www.eisenwarenmesse.com