Posted December 12, 2017
Epicor launches newest version of Epicor ERP
Powerful new capabilities for winning execution on the factory floor and beyond.
---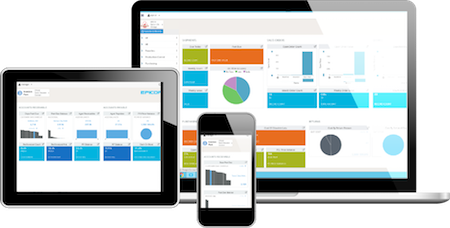 Epicor Software Corporation introduces the latest version of Epicor ERP, the global enterprise resource planning solution in use today by thousands of companies in 150 countries worldwide.
The latest release includes powerful new functionality to enable manufacturers to grow, innovate, and compete in today's ever-changing global landscape. Marquee capabilities include mobile Field Service Automation (FSA) and Customer Relationship Management (CRM), as well as new business intelligence and visual analytics capabilities delivered via Epicor Data Discovery. A completely redesigned home page, Active Home Page, Smart Inventory Planning and Optimization, and new country and industry-specific functionality are also key features of the new version.
"Businesses that adopt the latest technologies in cloud, analytics, and employee experience will be fit to grow and respond to the new digital challenges of tomorrow while achieving a competitive advantage right now," said Scott Hays, senior vice president, product marketing, Epicor. "In this, our third major release in the past 13 months, Epicor continues to deliver cloud-enabled, industry-specific functionality, globalization and localization, mobility, and action-oriented analytics, with continued improvements in customer experience, ease-of-use, and performance."
Role-based insights for better, faster execution
According to a recent Gartner report, "In 2018, data and analytics can't be ignored — analytics will drive major innovation and disrupt established business models in the coming years." Epicor ERP equips personnel with critical insights at a glance for better, faster analysis and execution. Active Home Page provides dashboard views of role-based analytics with quick access to role-based functionality.
This is made possible through Epicor Data Discovery (EDD), which supports rich on-demand data exploration to surface real-time operational and business performance insights to guide decision making. EDD encapsulates complex data sets into easy-to-understand graphs and charts to allow users to quickly gauge performance, understand trends and opportunities, drill down into data sets, and test out "what if" scenarios.
New mobile FSA and CRM
New mobile FSA and CRM functionality empowers sales and service personnel in the field with the added convenience of mobile access. Available in a cloud or on-premises delivery model, Epicor FSA features integrated mapping to support optimized scheduling and dispatch, and robust workflows to automate processes for asset management, contract, warranty and Service Level Agreement (SLAs), and management of service inventory.
Epicor FSA can be used with smartphones, tablets, and laptops for both online and offline communications with the back office for enhanced productivity and efficiency across all service workforce facets, for improved response, reduced costs, and improved customer satisfaction.
Epicor CRM supports digitally enabled sales engagements for improved efficiency and productivity in buyer/seller experiences and revenue acceleration. Mobile CRM syncs and updates with Epicor ERP data in real time, enabling sales teams to access vital infomation such as real-time stock status and customer credit availability quickly and easily—whether in the office or in the field—via any mobile device. Rich CRM and sales enablement functionality empowers sales teams to manage contacts, follow up with leads, manage sales pipelines, and develop quotes.
Smart inventory planning and optimization
Optimal inventory strategies are essential to drive profitability and growth. With Epicor Smart Inventory Planning and Optimization—an integrated set of cloud-based capabilities for demand planning, inventory optimization, and supply chain analytics—businesses can drive best-practice sales and inventory operations planning (SIOP) and monitor myriad factors to prescribe inventory policies and service levels that yield the lowest total cost.
The package offers a convergence of robust forecasting methodologies, optimization techniques, and consensus demand and inventory planning delivered via an easy-to-use interface accessible in any web browser. Reporting and analytics provide vital stats on inventory status to help uncover root causes of operational inefficiencies, stockouts, excess inventory, and late deliveries.
Capabilities to fit specific business needs—around the world and on the shop floor
New country- and industry-specific functionality provides support for the job at hand – whether it's tax processing in Penang or casting and coating in Kansas City. Functionality localized for specific geographic regions supports global business compliance and reporting, tax and payment processing, and international trade requirements, including legal numbering, and non-recoverable taxes.
Epicor Payment Exchange is now fully integrated with Epicor ERP so customers can enjoy predictable pricing and low rates, along with the peace-of-mind of working with one of the fastest-growing payment processors in the U.S. Epicor Payment Exchange handles all real-time authorization, next-day settlement, and comprehensive reporting for credit card transactions.
Epicor customers using the Epicor Mattec MES solution will also benefit from improvements in MES-ERP integration to more easily account for various parameters and dependencies related to jobs, scheduling, operators, and/or machines.
Upgrading with ease
Committed to providing positive experiences for its customers, Epicor has focused on "ease of everything" from deployment, education, through support, upgrades, and maintenance, resulting in greater profitability, productivity, and growth. New enhancements make it easier than ever for manufacturers to upgrade to the latest version of Epicor ERP to leverage new features and functionality to support growth and competitive advantage.
"Upgrading Epicor ERP is now easier than ever before, which allows us to go through the upgrade process with minimal business disruption," said Martine Kennedy, IT Project Manager with Windsor Mold Group. The company has leveraged Epicor ERP since 2010 to support operational excellence. Windsor's Ontario, Canada-based automotive components division was named a Supplier of the Year by General Motors in 2016.
The latest version of Epicor ERP is now generally available worldwide, however, some functionality such as FSA and Mobile CRM while available in the United States is not available in all regions and is expected to become generally available globally in 2018.
For more information, connect with Epicor or visit www.epicor.com.